Tarantino Wants Will Smith for Spaghetti Western Django Unchained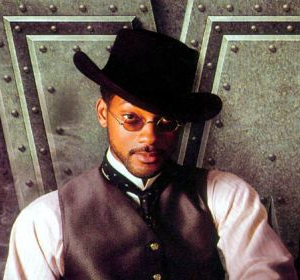 Some might argue that one trip to the wild, wild West was enough for Will Smith. Quentin Tarantino is, it seems, not one of those people. According to a report which you should take with a generous heaping of salt, QT wants Smith for the lead in Django Unchained, his buzzed-about next film which may co-star Christoph Waltz and Sam Jackson. Cue the Stevie Wonder riff!
Again, to reiterate, nothing has been confirmed. No offer has officially gone out. Tarantino just finished scrawling the script the other day, guys! So what we're looking at is a very preliminary wish list of people that QT and Co. hope to line up as they seek studio partners for international release (Weinstein Co. has domestic rights).
But let's just indulge the suggestion for the moment. THR reports that Smith would play Django, "a freed slave who seeks to reunite with his slave wife, a journey which will see him team up with a German bounty hunter to take down an evil plantation owner." Said German would hypothetically be played by Inglourious Basterd Waltz, with Jackson being eyed to play the manipulative slave working for one Monsieur Calvin Candie, the film's big baddie. (Variety reports that Waltz is indeed attached to play a character named Dr. King Schultz, and that Tarantino wrote the role of Django with Smith in mind.) The film may begin shooting this fall in the South.
This fantasy casting seems to make sense both ways, as Smith could use a creative shake-up and go where he really hasn't gone before, into the Tarantino universe. As one of the world's most reliable box office draws, he doesn't necessarily need this kind of film - it needs him and his star power more. But it would be fun to see what might happen if Tarantino joins forces with the erstwhile Fresh Prince. Two great tastes that taste great together?