Matt Damon Considers Making Father Daughter Time His Directorial Debut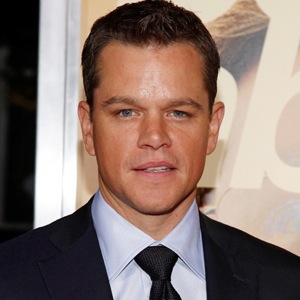 Ben Affleck may have transitioned his Oscar win into a successful directing career but his Good Will Hunting star and co-writer has been content with leading big-budget pictures and producing the odd project. Until now that is. According to Deadline, Damon is seriously considering directing and starring in Father Daughter Time: A Tale of Armed Robbery and Eskimo Kisses -- provided he can get his hands on it.
The script from Matthew Aldrich (who wrote the air traffic controller-friendly Cleaner) chronicles "a man who goes on the lam with his daughter, his accomplice on a three-state crime spree." As of Thursday, the script had received five bids, including one from Paramount with J.J. Abrams attached to produce. However, Aldrich's manager released the following telling statement earlier on Friday: "When one of the biggest movie stars in the world, who also happens to be an Academy Award-winning screenwriter, gets on the phone with your client and offers to protect the writer's vision and opens his hand to be a creative partner, it's hard to say no."
So, yeah: it looks like Matt Damon will be taking on Father Daughter Time. Do you think this sounds like the right project for Damon's feature directorial debut? Should Chloe Moretz start clearing her calendar?
· Warner Bros Buys Hot Spec, Matt Damon Circles As Star And Director [Deadline]