Weekend Forecast: This! Is! Summer!
Welcome to a very special edition of Weekend Forecast, the first official box-office preview of the 2011 summer movie season. One the one hand, this weekend's winner will seem fairly obvious at a glance. On the other, its margin of victory -- and the legitimacy of its competition, for that matter -- is up for debate. Let's investigate!
NATIONAL OUTLOOK
· Thor: Marvel Studios unveils its latest comics-hero adaptation -- the institution's first new character in almost three years as well as its first release in 3-D. Every star is aligned for Marvel, Paramount, director Kenneth Branagh and breakout leading man Chris Hemsworth to win by a lot this weekend, with one somewhat significant "X" factor: A little second-week job called Fast Five, which should drop about 55 to 60 percent into the mid- to high $30 million range. That's hardly crippling for Thor, which critics generally admire and has a massive public profile heading into the weekend. Still, whatever hope it had for an $80 million opening of its own looks precarious at best. Marvel/Paramount are keeping expectations low around $60 million, which seems a little too modest. Let's split the difference and add a few million as a 3-D bonus. FORECAST: $74.6 million
· Something Borrowed: Despite producing partners Hilary Swank and Molly Smith's best intentions, most critical accounts to date place this adaptation of Emily Giffin's chick-lit bestseller smack among all the other romcom offenders sadly now synonymous with Kate Hudson. (If Hudson's co-star Ginnifer Goodwin isn't careful, she'll wind up with her genre uniform number retired someday as well.) But hey: It's Mother's Day weekend, which is event-y enough for this one's target demo to lift it over the $10 million threshold -- just not by much. FORECAST: $11.8 million
· Jumping the Broom: Another romantically tinged comedy for the African-American demo features Paula Patton and Laz Alonso as a couple wracked with family crises as they prepare for their nuptials. This could be a bit of a sleeper on roughly 2,000 screens -- another possible Mother's Day outlet with a strong supporting cast including Angela Bassett, Loretta Devine and Mike Epps as well as the influential imprimatur of evangelist/co-producer T.D. Jakes. He's no Tyler Perry, but this might a respectable eight-figure splashin any case. FORECAST: $11.5 million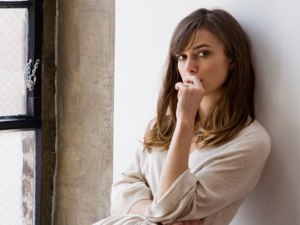 THE PRIME DESTINATION
I've pretty much said my piece about Last Night, the intoxicating marriage-and-temptation drama whose path from Miramax Films limbo to Toronto Film Festival closing night back to limbo and now to VOD -- and this weekend's limited theatrical release -- is far more tortured than any Keira Knightley/Sam Worthington film deserves. Not to mention Eva Mendes and Guillaume Canet in nifty supporting roles, and Verge star Massy Tadjedin making her directing debut behind the camera. Bottom line: This is a solid, thought-provoking movie worth a look, made by people you'll be watching a lot of for years to come. Just check it out.
STORM WARNING
Finally, we can get The Beaver behind us. Summit is testing the box-office waters for director Jodie Foster's Mel Gibson-and-a-puppet dramedy on a somewhat aggressive 22 screens; I'd have thought eight or nine at most -- keep per-screen average up there in week one, and thus inch ever further with its controversial star in week two. Instead we're pretty much going to know The Beaver's future by the time the sun rises on Monday. A PSA under $10,000 would suggest to me this is a nonstarter; blame Gibson, bad marketing, depressing story or some combination of the three, but this is a word-of-mouth product if ever there were one. And people have got to see it to talk about it. I wouldn't be so sure, but I wouldn't count it out either. I'm just saying, is all.
REGIONAL OUTLOOK
Also opening this weekend in limited release is the Mickey Rourke/Megan Fox/Bill Murray winged-woman curio Passion Play, as well as the grindhouse-errific Rutger Hauer vehicle Hobo With a Shotgun. Wes Bentley undertakes the latest step of his comeback with the drama There Be Dragons (which, fair warning, features no dragons), and -- remarkably (maybe?) a horror film called I'm Not Jesus Mommy. Now that's what I call Mother's Day viewing.
What are your plans? Care to call any box-office shots?