Tense First Clip of Ryan Gosling in Cannes Entry Drive Arrives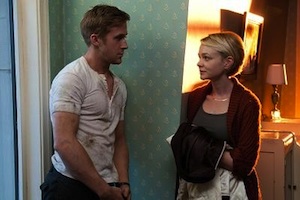 The days of Ryan Gosling, Indie Darling appear close to an end. Not only will the mumble-y actor co-star alongside his ripped six-pack abs and Steve Carell in Crazy, Stupid, Love this summer, but he'll also take the lead in Nicholas Winding Refn's September action film Drive. This before killing gangsters and running with Logan. Drive debuts at the Cannes Film Festival, and a new clip that has surfaced online will possibly make you want to book a flight to France.
Sadly not embeddable -- but definitely watchable over on the Cannes site -- the two-minute clip from Drive packs in enough tension to break a sweat. Gosling stars as a getaway driver, taking group of recent robbers away from the scene of the crime. Using a police scanner and some crafty driving skills, Gosling avoids the police... for the moment.
As The Playlist points out, the clip will immediately recall the work of Michael Mann. Also, Michael Clayton, specifically in its dark sepia tones and car tensions.
Drive -- which co-stars Carey Mulligan, Albert Brooks and Bryan Cranston -- hits theaters on Sept. 16. Click through to watch.
[via The Playlist]
[Photo: Drive Film Holdings, LLC.]