Learn How Elizabeth Taylor, Michael Jackson and Marlon Brando Fled New York on 9/11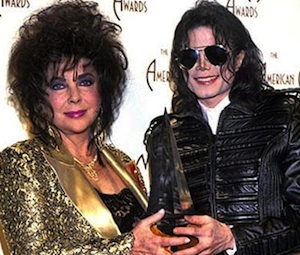 What happened to three of the most eccentric Hollywood personalities in the immediate aftermath of Sept. 11? They went on a road trip, of course! In the June issue of Vanity Fair, writer Sam Kashner recounts the story of how Elizabeth Taylor, Michael Jackson and Marlon Brando rented a car after the terrorist attacks on the World Trade Center, and drove from New York to Ohio in a misplaced attempt to get back to California.
Writes Kashner, in an excerpt from the article "Elizabeth Taylor's Closing Act" (available in the June issue with Katy Perry on the cover):
A former employee of Michael Jackson's says that Michael, like General Washington, led his entourage to a temporary safe haven in New Jersey, before the three superstars took to the open road. "They actually got as far as Ohio -- all three of them, in a car they drove themselves!" he recalls. Brando allegedly annoyed his traveling companions by insisting on stopping at nearly every KFC and Burger King they passed along the highway. One can only imagine the shock their appearance caused at gas stations and rest stops across America.
With all three participants from the road trip deceased, a former Taylor employee has come out to claim the story isn't true. However, history-magnet Corey Feldman was on-hand for Jackson's Madison Square Garden concert on Sept. 10, and recalls that travel plans were put into motion.
"I remember that [the day after the concert] Michael was trying to get Elizabeth out! He was at first looking for a private jet. He wanted permission to fly out -- but everything was surreal. I didn't go with him."
In case you can't wrap your head around this story, Vanity Fair has helpfully created a Taiwanese animation video of the possible event. Watch it below.
· Liz Taylor, Michael Jackson, and Marlon Brando Star in . . . Escape from New York! [VF.com]