American Idol Top 5: You're My (Least) Favorite Mistake!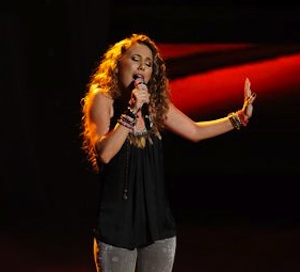 Wednesday night's American Idol was a little like guest mentor Sheryl Crow: filled with talent, but dogged by a weird commitment to blandness. The good and bad news is that Idol gifted us with five singers, ten performances, and rankings that pretty much write themselves. Was Scotty McCreery's Elvis cover a trip to Dis-Graceland? Should Jesus have taken the wheel on Lauren Alaina's Carrie Underwood cover? And did Haley Reinhart come in at #1 for the third week in a row on our tally? Click ahead for the rundown.
10. Jacob Lusk, "No Air"
How are you supposed to breathe with no air? Answer: You don't. You're welcome, Jacob. It's a wonder that Jordin Sparks scored approximately four Billboard hits in spite of what I consider the worst post-Idol singles; if "Tattoo" isn't pop music's personal Hindenburg, then "No Air" is the only other candidate. Now, Jacob Lusk is his own version of a flaming airship, and I appreciate that he tried to eke out a few fireballs of glory before engulfing dozens of victims in flames and showering North America with toxic debris. But, I mean. That's as far as I can respect a terrifying fiasco. Jacob Lusk is so obviously the fifth place contestant this week that I'm sorry I even brought him up. The pitch wasn't there, the stage presence wasn't there, and worst of all, Jacob replaced both of those things with crotch grabs and groin thrusts. Go to prison.
9. Jacob Lusk, "Love Hurts"
Nice Mr. Bill falsetto, Jacob. Critique over. But another thing: Did I hear Jacob compare himself to the Carpenters? Oh, honey. I'm in your face now, Jacob. I'm standing there. I've got a rugged-ass underbite, sharpened like the mandible on a post-apocalypse Katharine Hepburn droid, and it's drumming against your weeping gumdrop of a face. Drumming on your gummy, girl. Piercing your chump cheekbones like the sword of Damocles sheathed in gay grit. Because you, Jacob? Shall never. Bring up. Karen Carpenter. Again. Not ever again. Never, ever again! No Karen for you! No! Karen! I hope the holes I've drilled in your blubbering visage with my thug-ass jawbone will remind you of my warning -- but be forewarned! If you invoke my Karen's name again, I won't hesitate in the future to revisit "yesterday once more" and pummel your facial jelly for a second time. Or third, fifteenth, etc. Oh, and "Love Hurts"? Embarrassing, shriek-filled squawks. Squawks fulla shrieks. A new musical starring Jacob Lusk. And not. Karen. Carpenter.
8. James Durbin, "Without You"
Tough week for Squints Van Der Beek, who thrilled the judges with his tearful screams, but grossed out me and all other denizens of plebe world. Jennifer Lopez was right when she claimed that Durbz never turns in a weak performance, but the problem is, he always turns in a weak soul. Pretending to cry? Is not the same thing as passion. Yapping at notes? Is not the same thing as hitting them. I thought "Without You" was James's worst performances to date, easily -- and worse, it evinced his penchant for spectacle over substance, yet again. Now I'm squinting, Durbz! Through the pain.
7. James Durbin, "Closer to the Edge"
In the vein of James's Muse cover, "Closer to the Edge" adhered to the only genre in pop radio that could accommodate his voice, and that was wise. I can't abide by a performance that was stymied by James's high-fives and audience interaction, but I admire the song choice -- which Randy would not shut up about -- more than a few others this week. Mind you, "admire" is not the same thing as "like." Pick a song with a hook, dammit! This ain't American Prattle (except, of course, it is).
6. Scotty McCreery, "Always on My Mind"
You know, if "You've Got a Friend" worked so well for Scotty last week, this should've been equally touching -- but it wasn't, yo. It was more of the Elvis-sneer pageantry and old-timey murder gurgles that define Scotty's worst moments (and worst murders). And the pitch! It didn't rule, dawg. Particularly on the chorus, where you're really supposed to sell the hell out of that song and make us believe you've done a lot of romanticizing coupled with backwoods drugs. Worst of all, our lonesome troubadour topped off the performance with a phony-ass sniffle. God damn Squints for crying! We were subjected to lackluster lachrymose lackity for the rest of the night.
5. Lauren Alaina, "Unchained Melody"
Let me blow your mind with a theory about why Lauren Alaina is such a ho-hum Idol contestant: She doesn't try hard. She memorizes the lyrics, cues up the notes, and emits a slight shimmy. It's hard to root for someone whose capacity to emote doesn't exceed a nervous, contrived giggle. Mind you, maybe she's a subversive throwback genius, because the insane blue-and-white gown she wore this week was straight-up Debby Boone material. Does she know she sort of sounds like Debby Boone? Is that the message? Or is it that she just has Jessica McClintock taste? This is why 15- and 16-year-olds should be, like, discarded. Also, "Unchained Melody" is not acceptable on Idol anymore.
4. Scotty McCreery, "Gone"
Cute-ass jig of a hootenanny, this song. Montgomery Gentry is no name that I will ever add to my iTunes, but I've gotta give it up for this song's rollicking, barn-storming fun. I obviously despise Scotty's twitchy microphone fingers, stage-skipping, and a raucous hand gestures that can only be described as "fistfight solitaire," but he powered through this jam like marquee tween at the Grand Lil Opry, or wherever some performer like him goes when he's successful. The Grand Ole Baby! Or something.
3. Lauren Alaina, "Flat on the Floor"
I remember Carrie Underwood. She was so assured the season four victory (partially because that season was full of losers) that you tuned in every week to watch her secure the throne some more. Strange how Lauren Alaina, who is supposed to be Carrie's heir, is the opposite of that. With her cover of Carrie's "Flat on the Floor," Lauren delivered a spirited, note-friendly take on this utterly typical country-pop song, but it's hard to come up with any other compliments for the Learner's-Permitted teen. It's impossible to say she deserves to win like Carrie did, because she seems so replaceable compared to Ms. Underwood's ineffable energy and power. She's not particularly current either, but I'm not here to judge relevance, per se: Fact is, Lauren gave her best performance (for me) since "You Keep Me Hangin' On," which I insist is her best work. I wouldn't be surprised if Lauren was a "shock" elimination this week considering her nondescript song choices, but I'm actively hoping Jacob Lusk bites the dust. This isn't Silly Struthers's week to go.
2. Haley Reinhart, "You and I"
Here's our girl. Let us do a mini-ranking of Haley's most impressive feats this week: 3) Ignoring the odious judges, who pretended this rendition of an unreleased Lady Gaga track was anything less than novel for her sinister, Sister Bear growls (please picture Haley in a pink Berenstein bow -- it so works); 2) her post-performance interview with Ryan Seacrest when she sighed, "This was an opportunity, and I took it"; 1) the vocals themselves, which were so raw, right-on, and sincere, that I can hardly believe she isn't considered a frontrunner by anyone. Seriously. Who else is it even possible to root for? James Durbin? We know he's a faux-earnest Troll doll. We know that. Lauren? Too enh. Scotty McCreery? Too one-note and self-satisfied. It's Haley all the way, since she's dwarfing the competition like no competitor since Melinda Doolittle. (And we know how that turned out.)
1. Haley Reinhart, "House of the Rising Sun"
I know it's not cool to bring up season nine, but Siobhan Magnus re-purposed and owned this Animals classic during the semifinals. So light, crystal-clear, yet throaty and brassy. But my god, Haley Reinhart owned Siobhan this week with her rendition, which I can honestly say was the only showstopping moment in last night's songlist. The melodrama of the lyrics match Haley's audience-pleasing, Star Search-style howls, and I'm shocked to realize this song was ideal a match for her voice as "Bennie and the Jets," "Piece of My Heart," "Beautiful," and (I'm sticking to my guns!) "I'm Your Baby Tonight." Could you handle the fierce-ass finger point? The slow-burn a cappella intro? The stank-slicked latter half? The perfection? The ceaseless surprises? Give it up for the tiny tigress with the stuffed animal eyes, y'all: She's savvy, unpretentious, and a deserving destination for idolatry. Send it her way.