Ranking 5 Celebrity Babies With Movie Star Names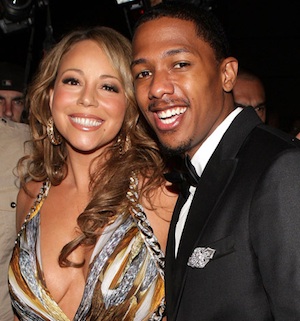 When celebrities name children, the world weeps. Moxie Crimefighter, Pilot Inspektor, and Jermajesty are all real people thanks to "creative" celebrities and their restless revolt against the system. Sometimes, however, celebrities use their children to toast other celebrities, like Mariah Carey just did -- and luckily for Movieline, that's resulted in at least five babies with movie star names. Let's rank these scamps!
5. Ava Phillippe
Yes, Ava is now an overly popular name that new parents still believe is unusual, but it can't be denied that the original Ava is Mogambo seductress Ava Gardner. Hopefully Ryan Phillippe and Reese Witherspoon's 1999-born daughter, who is named after the actress, doesn't marry post-millennial versions of Mickey Rooney, Artie Shaw, and Frank Sinatra (Justin Bieber, Rickey Minor and Justin Timberlake?) and divorce them in quick succession.
4. Monroe Carey/Cannon
Close followers of Mariah Carey know that the singer is a big Marilyn Monroe fan. On her episode of MTV's Cribs, Carey showed off every inch of her staggering New York apartment building except a piano that once belonged to Marilyn Monroe. Apparently that was too special for air, and apparently Marilyn Monroe knew how to play the piano. While Marilyn is the ne plus ultra of screen sirens, I'm not 100% behind Mariah's choice. "Monroe" is too vague -- she could be referring to the president, the doctrine, or a street in Chicago. Please aim for specificity in your next vision of love, Mariah!
3. Harlow Winter Kate Richie/Madden
Who knew Nicole Richie had any appreciation for Jean Harlow, the '30s bombshell who died at age 26, until she gave birth to Harlow Winter in 2008? Jean Harlow was beautiful, yes, but has anybody here ever seen a Jean Harlow film? I have not seen Platinum Blonde or The Public Enemy or Riffraff. I saw Gwen Stefani play her in The Aviator, and that's not the same thing. Unfortunately, Nicole Richie loses cool points for having a fashion line called House of Harlow 1960. You cannot invoke the name "Harlow" and pair it with a vintage decade that Jean never got to see.
2. Hopper Jack Penn
Sean Penn's son Hopper Jack, born in 1993, is named for the late Dennis Hopper (who directed Sean Penn in Colors) and Jack Nicholson. Hopper. That's quite a name. That's not like naming your kid after benign directors like Gus Van Sant or Amy Heckerling; this is a choice to situate your spawn with a specific personality from the minute the umbilical cord detaches. You're asking for rowdiness. You're asking for eventualities like this.
1. Tallulah Belle Willis
Bruce Willis and Demi Moore are glamorous, yes, but I didn't know they had any capacity for fabulous until they revealed the name of their new daughter in 1994: Tallulah Belle. Pretty gutsy to choose the name of an old-school vamp like Tallulah Bankhead, who dazzled us as both a movie star (Lifeboat holds up!) and a bawdy socialite. She was famous for skivvy-less cartwheels and bisexuality! Bruce Willis, I would like to say the same about you.