Warner Bros. Acquires Flixster, Rotten Tomatoes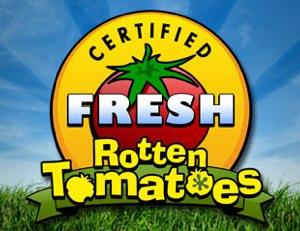 Warner Bros. Home Entertainment today announced its acquisition of the film-centric social media site Flixster and its review-aggregating subsidiary Rotten Tomatoes. "Driving the growth of digital ownership is a central, strategic focus for Warner Bros.," Warners video boss Kevin Tsujihara said in a statement. "The acquisition of Flixster will allow us to advance that strategy and promote initiatives that will help grow digital ownership." In other words, the DVD/Blu-ray market is slowly suffocating, that Dark Knight-on-Facebook thing kinda came and went, and Friendster shut down before they could get it on the cheap. But what does it mean for you and the movies?
It's too soon to know, but a few things are clear: Warners really wants to corner the market on streaming video and digital downloads, and the other studios will be happy to let WB blow hundreds of millions to figure out how before they follow suit with the formula that finally works. (See: Rupert Murdoch's bungling of MySpace.) And with Warner Bros. today vowing Flixter and Rotten Tomatoes' continued independence -- the actual phrase was "studio-agnostic," a bracingly cynical and hilarious euphemism that could only come out of Hollywood -- the competition will certainly hold Warners to its word when it seeks to engage with Flixster users in particular.
That's all to be seen, and sooner rather than later. Still, come on: A studio cannot own a movie review site and pretend to maintain its sovereignty. Which isn't to say a shut down is imminent, or that studio head Barry Meyer himself will be fiddling with the counterprogramming's "fresh" ratings when things like The Hangover Part 2 open, or that Armond White's virtually assured pan of The Dark Knight Rises will somehow not count against its sterling 100 percent approval ranking. Well, actually, maybe that latter part. But! The whole thing about Rotten Tomatoes is its emphasis on new films. Theatrical isn't Warners' problem right now; library revenue is. Any and every way the studio can optimize the review archives to push its catalog online will be explored. I mean, if you can plug Gran Torino's instant availability with an 80 percent "fresh" rating: -- and keep all the revenue, as opposed to cutting in Netflix, iTunes or Facebook -- why wouldn't you?
Anyway, sorry if you thought your casual, innocent social networking was immune from bloodthirsty corporate takeover. Come to think of it: Mr. Zuckerberg? Mr. Murdoch is holding for you on line one.
The complete press release is below.
==
BURBANK, Calif., May 4, 2011 - Warner Bros. Home Entertainment Group today announced an agreement to acquire Flixster, a highly popular movie discovery application company with over 25 million worldwide users per month. The acquisition also includes Rotten Tomatoes, a top website devoted to film reviews, information and news. Under the terms of the deal, Flixster will continue to operate independently and will expand its services beyond movie discovery to enable digital content ownership and delivery across any connected digital device.
Warner Bros. Home Entertainment Group will utilize the powerful Flixster brand and technical expertise to launch a number of initiatives designed to grow digital content ownership, including the recently announced consumer application "Digital Everywhere." This studio-agnostic application will be the ultimate destination for consumers to organize and access their entire digital library from anywhere on the device of their choice, as well as to share recommendations and discover new content. The Flixster acquisition and "Digital Everywhere," combined with the Studio's support of the UltraViolet format are all part of an overall strategy to give consumers even more freedom, utility and value for their digital purchases.
"Driving the growth of digital ownership is a central, strategic focus for Warner Bros.," said Kevin Tsujihara, President, Warner Bros. Home Entertainment Group and Office of the President, Warner Bros. Entertainment. "The acquisition of Flixster will allow us to advance that strategy and promote initiatives that will help grow digital ownership."
Flixster is currently the number one movie discovery application on mobile platforms with over 35 million downloads to date, including Android, Blackberry and iPad, and ranks among the most downloaded of all iPhone apps. Rotten Tomatoes is one of the most trusted and influential brands in movie reviews with over 12 million unique visitors per month. Flixster and Rotten Tomatoes will remain fully independent. The Flixster team will stay in San Francisco and the Rotten Tomatoes team will continue to work autonomously in Los Angeles.
"We're thrilled that Warner Bros. Home Entertainment Group shares our vision for how 'anytime, anywhere' digital entertainment can become an amazing user experience," said Joe Greenstein, co-founder and CEO of Flixster. "We're excited that Warner was willing to make this kind of commitment to a leading independent consumer platform. We look forward to working with Warner as well as each of the other studios to innovate and build products that users will love."
Warner Bros. Home Entertainment Group has been the consistent change leader in the home entertainment arena. It is a founding member of the Digital Entertainment Content Ecosystem (DECE), which is launching UltraViolet™ this year. UltraViolet will provide cloud-based storage and give consumers the ability to watch digital entertainment across multiple platforms such as connected TVs, PCs, game consoles and smartphones. And as the market leader in video-on-demand and electronic sell-through, Warner Bros. Home Entertainment Group recently became the first studio to distribute films directly to consumers via apps on Apple's iOS platform and Facebook.
###