Who's Ready to Pony Up for Pirates of the Caribbean: On Stranger Tides Designer Luxury Items?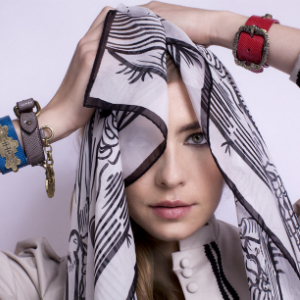 Now, I will go bananas over some OPI special edition nail polishes; why, with cleverly punny names like "Skull and Glossbones," even Captain Jack Sparrow himself would rock some silver crackle polish on his grubby pirate claws. Probably. But who in the world is gonna drop hundreds on designer purses, scarves, and jewelry merchandising tie-ins to Pirates of the Caribbean: On Stranger Tides?
Someone out there will, I suppose, since Disney's lined up a bevy of high-end luxury goods partners for the guaranteed summer blockbuster On Stranger Tides. Among the highest of the high end products tying into the pirate movie:
• A "Galleon Satchel" in the color "whiskey," $498 (Large enough to fit all your booty in, amirite? Sigh.)
• A silk scarf named, I kid you not, "BEAUTIFUL Dead Scarf," $78 (Pictured above)
• The "Adventurous Pirates - Skulls and Swords Bracelet" by Swarovsky, $180
Head to The Wrap for the full list of Pirates of the Caribbean: On Stranger Tides merchandising tie-ins and make your shopping list for the person in your life who really, really likes this franchise.
• $500 Captain Jack Handbags? Disney Rolls Out Its 'Pirates 4' Merch [The Wrap]