Wes Bentley, Star of Roland Joffé's There Be Dragons, Opens Up About His Struggle with Addiction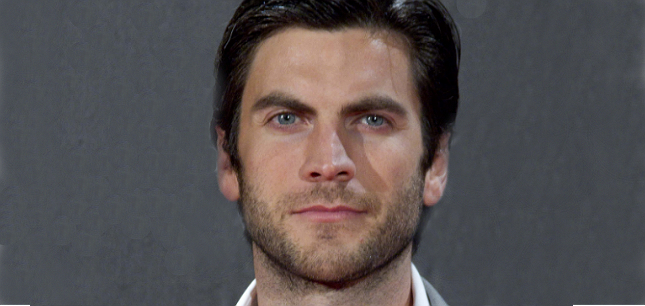 Rarely do actors reveal as much, as candidly, as Wes Bentley did in a recent conversation with Movieline. Speaking about his latest film, the Roland Joffé-directed Spanish Civil War drama There Be Dragons, Bentley offered a frank window into his life following the crippling, years-long addiction that waylaid what was once one of Hollywood's most promising young careers.
Back in 1999, when Sam Mendes' American Beauty won five Oscars and shot Bentley to stardom, he was on top of the world. But fame and career pressure weighed on the then-21-year-old and Bentley turned to drugs; by 2008 he'd hit rock bottom. (He pinpoints his last film completed in this state as being 2008's The Tomb.)
Now a few years older and wiser -- and most importantly, sober -- Bentley is focusing on rebuilding his career. There Be Dragons, in limited release this week, is an interesting step in revitalizing his screen presence. As the stern, apathetic Manolo, Bentley plays a man born from privilege who falls in with the Fascist regime before seeking forgiveness from the woman he loves (Olga Kurylenko), the priest he grew up with (Charlie Cox, as Opus Dei founder and eventual Catholic saint Josemaría Escrivá), and, later in life, the son he kept at arms' length (Dougray Scott).
Movieline spoke with Bentley about his struggle to overcome addiction, his ongoing efforts to rebuild his life and career, and the deeply personal revelations that came unexpectedly on set while literally looking into the mirror at his own image.
Actors sign up for projects for any number of reasons -- the script, the character, the director they get to work with, where they'll be filming. What were your reasons?
I was looking for anything, which is sad in its own way, but then this amazing script came along and an opportunity to sit down with Roland Joffe, who I have been a fan of since I was a kid. The Mission was a big film for my family so when I was sitting here kind of wanting anything to come along, this was actually something I would search for. I felt very lucky to have the opportunity to just meet with him, and grateful. He then offered me the role. I do like to go on location; right now I have a five month-old son though, so sometimes I want to be in L.A. but I'd like when he gets older to take him on location, too.
Speaking specifically to the subject matter, this is a film with many focuses but the overriding themes are forgiveness and redemption. Did these themes speak to you in particular because of where you were in your life?
It's funny, because like I said, when I first saw it I was just so grateful not only to be doing a film, but doing a film of such quality. I didn't even start to dig into the themes and how they're related to me until they offered me the role and we got closer to shooting. I had been dealing with the issues that I'd been dealing with, and my own isolation -- my sadness, because I'd hurt a lot of people. People close to me. And I'd hurt myself so much, and I was only just starting to recognize that. Then as we prepared for the movie it was starting to ring a bell and I had this great woman in my life who was with me on the set. I was lucky enough for her to be there, and she's now my wife, who was making me feel better about myself because I wasn't feeling so great about myself as a human.
But it all just sort of culminated with those elements, and then playing older Manolo -- I played older Manolo first. It's the hardest thing that I've done, physically and as an actor, to play him. I was preparing to do this scene where I ask forgiveness of my son, tell him what I'd done and ask for forgiveness. And I'm in this old age make-up and I'm looking in the mirror preparing and I realize, it just hits me like a ton of bricks: I don't want to be dying on my deathbed before I recognize the terrible things that I've done. You know, they're not the terrible things that he had done by any means, but in my life they were bad and I needed to ask for forgiveness, and I wanted my life back -- and I wanted it now, in my 30s, before it gets too late. So that was a big moment. I also had people on the film who I looked up to that were already sober and it was very attractive to me. So all of these things culminated in me wanting to make my life better. I got sober and I started reconnecting with family and putting the pieces back together.
The New York Times profile from 2010 was a really brave interview for you to give.
Thank you.
The message seemed to be that you were ready to reclaim the path that you were once on. What do you feel was the turning point for you in rebuilding?
I have a lot of different moments. I wish I could say there was one, but there were quite a few. There was one moment when I finally admitted that I had a problem, but that's not the only thing that turns it around; it's then taking the action to heal it. It's been a slow process that I'm very patient with. I like the pace that I'm going at, and I'm kind of reconnecting with people in town. I like proving myself with people again, and I feel more ready and able to deal with it, you know. The business.
Pages: 1 2