Quentin Tarantino Won't Confirm the Rumors You've Read About Django Unchained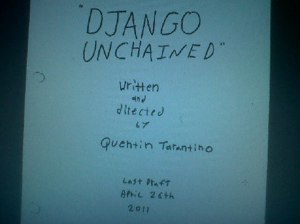 At the Film Society of Lincoln Center's Chaplin Award Gala, director Quentin Tarantino was only too happy to discuss Sidney Poitier. "He was my favorite actor," Tarantino said during a sprawling speech honoring Poitier on Monday night. What Tarantino wasn't all that willing to discuss, however, was his just-finished script for Django Unchained.
Pressed by a reporter for Vulture to confirm that the film is shooting later this year with Christoph Waltz in a lead role, Tarantino bristled. "Nobody is in it; I just wrote it Tuesday," he said. "I wrote it Tuesday. I'm not even directing it yet! I just wrote a script Tuesday, all right? It's just a script. A piece of paper, a lot of pieces of paper. 366, to be exact."
Maybe not that many pieces of paper -- reports circulating the web say the Django Unchained script is "only" 168 pages -- but, point taken.
As for non-Django Unchained movies, don't expect to see Tarantino standing in line to see Thor this weekend. "I don't even know what the summer blockbusters are," when asked which films he's looking forward to viewing this summer. "I've been writing. [...] I'm not excited about them, no."
Too bad, QT; it's gonna to be a good summer!
· Quentin Tarantino Partied All Day After Writing Django Unchained [Vulture]