See Your Favorite Upcoming Summer Movies Rendered in LEGO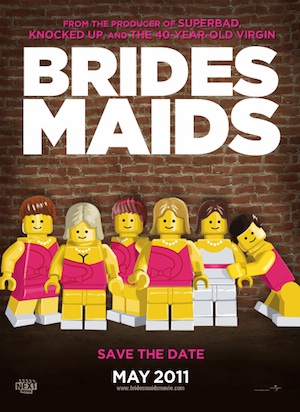 A new season called summer is about to happen, so it's our job to show you Legoland tributes to the big blockbusters. You'll recall that Movieline is slightly over the LEGO phenomenon. Why not Tinker Toys, guys? Or K'Nex? Or Better Blocks? Or Domino Rallies in the shape of Michael Bay? Anyway, check out the single best LEGO rendering of a 2011 summer movie after the jump.
Bridesmaids, y'all. Look at LEGO Rose Byrne giving you major lean sass on the right-hand side. Melissa McCarthy goes harder in the real poster, but I respect her Danish plaything counterpart's attempt.
Head over to NextMovie to check out some more LEGO-y summer movies, including Thor and Harry Potter and the Deathly Hallows -- Part II.
· This Summer's 10 Biggest Movies in LEGO Form [NextMovie]