'He Was My Favorite Actor': Quentin Tarantino, All-Star Line-Up Honor Sidney Poitier
Better late than never for the Film Society of Lincoln Center's Chaplin Award Gala to recognize Sidney Poitier, a double Oscar-winner, renowned Hollywood polymath and one of the most socially relevant entertainers of the last half-century. The 38th annual event -- named in 1972 for its first honoree, Charlie Chaplin -- brought out a gaggle of Poitier's friends, peers and all-around devotees to toast him, including long-time fan Quentin Tarantino, who put the night in both personal and historical perspective for the sold-out crowd.
The filmmaker joined a list of speakers including Poitier's oldest friends Quincy Jones and Harry Belafonte, Morgan Freeman, erstwhile Poitier co-stars Ruby Dee, Mary Louise-Parker, Sir Ben Kingsley and Dan Aykroyd, In the Heat of the Night director Norman Jewison, daughter Sydney Poitier, '70s-era comedy partner in crime Bill Cosby (who urged attendees to buy Poitier's book while jokingly wondering how he retains "so much integrity for such a cheap man"), showstopping To Sir, With Love vocalist LuLu, and even a pre-taped appearance from Oprah Winfrey.
And while Belafonte and Jewison shared engrossing stories from their days working with Poitier -- the former's work commitment one evening allowed Poitier, his theater understudy, to assume a role that would indirectly launch him to his screen debut a year later in No Way Out; Jewison, had to move Heat's location shoot to Illinois because of death threats against his actor in the South the year before -- Tarantino viewed Poitier's 50-plus year career through a more film-cultural lens.
"In the history of movies," Tarantino began, "there've only been a few actors who, once they gained recognition, their influence forever changed the art form. There's a time before their arrival, and there's a time after their arrival. And after their arrival, nothing's ever going to be the same again. Now, the man this award is named after? He was one of those actors. But the man receiving the Chaplin Award tonight is the epitome of one of those actors. As far as the movies are concerned, there was pre-Poitier, and there was Hollywood post-Poitier. I just had a birthday; I'm 48 years old. I'm proud to say I belong to the first generation to watch movies in a post-Poitier Hollywood.
"In 1967, I was 5 years old. And in 1967, Sidney Poitier was the biggest box office star in America. You've heard before, but he had three movies that were playing in theaters then: In the Heat of the Night, Guess Who's Coming to Dinner, and To Sir With Love. My mom took me to all three to see them in the theaters. And as I grew up watching movies in this post-Poitier Hollywood, I continued watching his movies. He was my favorite actor. And with all apologies to Herb Jeffries, the first black Western I ever saw was Buck and the Preacher. And Uptown Saturday Night, my friends and I went to see that -- first show, first day at the Paramount in Hollywood, now the El Capitan. The 12 o'clock showing. Sidney Poitier and Bill Cosby were the greatest -- hands down, one of my favorite comedy teams of the '70s. There was also Let's Do It Again and A Piece of the Action.
"But you know, it's funny. Now I'm actually friends with Sidney Poitier. He indulges me, goes out to lunch or dinner with me, and I can pick his brain and ask him about these things I'm curious about. And actually this whole pre-Poitier Hollywood period is a very fascinating thing to me. And I was talking to him recently and I was asking him about his early days in New York as a young actor. And I asked him if he was interested in or did he ever audition or did he ever try to get work in the colored movies they used to make at the time. They called them 'colored movies' -- movies made for black audiences, and they'd go around to black theaters in black neighborhoods, where they'd show them. And he said, 'No, I wasn't interested in that. It seemed marginalized. I just didn't do it.'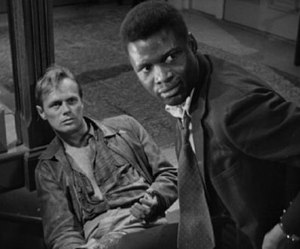 "And I said, 'Well, yeah, but you know, in Hollywood movies, you could only play bellmen and waiters and baggage handlers and such. In the colored movies you could play anything. You could play doctors, you could play lawyers, you could play cowboys and gangsters.' And he goes, 'Well. I did my first movie for Joseph Mankiewicz. And it was produced by 20th Century Fox. I was the lead with Richard Widmark, and my character was a doctor.'
"So I start to come back: 'Well, you couldn't have known that.' Or, 'You couldn't have counted on that.' Or even -- and thank God I didn't say this -- but, 'Well, that was luck!' It was lucky for Joseph Mankiewicz.
"But I didn't say any of those things. I just thought about his answer. I thought about the movie No Way Out, and I just answered, 'Yes you did, Sidney. Yes you did.' Sidney, when Joseph Mankiewicz wrote that script, that wasn't luck. That was destiny that he wrote that role. And it wasn't luck, but it was destiny that there was a Sidney Poitier out there after wrote that role to fill that role. It wasn't lucky for Joseph Mankiewicz; it wasn't lucky for Sidney. But really, it was lucky for all of us. And a member of the generation that grew up in a post-Poitier movie world, I want to thank you for that, Sidney. Thank you very much."
[Top photo: Getty Images]