The World Only Needs One Endangered Species Animated Film, Says Pixar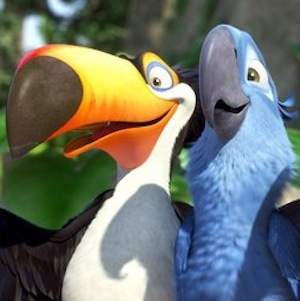 If you are a fan of Pixar, you might recall that in 2008 the studio announced an exciting 3-D love story called Newt that would hit theaters in the summer of 2011. But the project, about the last remaining blue-footed newts on the planet, mysteriously disappeared from the studio's production schedule and finally, Pixar's CEO is ready to explain why.
Speaking to IGN.com, Pixar Chief Creative Office John Lasseter explained that the studio never ended up making the film because "its story was very similar to a movie that's out in theaters right now with a blue parrot. Oh my! Wow, we were like ... no, there was no ... great minds think alike, I guess. It was really pretty similar."
Of course, Lasseter refers to Fox's Rio which was released April 15 and has grossed over $100 million already. Strangely enough, Rio (which Movieline reviewed here) tells the tale of the world's last male Macaw (voiced by Jesse Eisenberg) who -- with the help of his owner (Leslie Mann) -- must find and mate with the last female Macaw (Anne Hathaway) to save the species.
Eerily enough, Newt would have followed the last two blue-footed newts as they are forced together by science and expected to overcome their own differences so that they can mate and save their species.
Lasseter clarified that the project has only been shelved with the possibility of being produced in the future -- but do you think this is a tale worth retelling?
· Pixar on Newt: Blame It on Rio? [IGN]