Osama bin Laden's Death Brings Timeliness to Hollywood Film Projects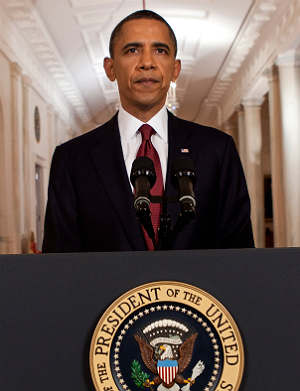 Sunday's news from President Barack Obama that Osama bin Laden had been killed in Pakistan brought closure to a nation still grieving the tragedy of 9/11. Deadline reports that Oscar-winning director Kathryn Bigelow has been prepping her follow-up to the Iraq-set The Hurt Locker, entitled Kill Bin Laden, which could become the first feature film to depict the historical events of May 1, 2011.
Previous reports were uncertain of how the bin Laden angle fit into Bigelow's film, but Deadline confirms the film's focus on "an unsuccessful mission to try and kill the Al Qaeda leader responsible for the 9/11 terrorist attack on America as he hid in the border region between Pakistan and Afghanistan."
From Deadline:
Mind you, reps for Bigelow have told me previously that this movie isn't specifically about the Al Qaeda leader. A lot of details about this film are stilll sketchy and secret, but I've heard that Megan Ellison, daughter of Oracle chief Larry Ellison, is ready to fund it. I heard as recently as Friday that Bigelow and Boal were courting Joel Edgerton for the lead actor.
Another film depicting the hunt for bin Laden stalled a few years ago at Paramount, but the events of bin Laden's fall, ordered this week by President Obama, should renew studio interest. That project, based on Gary Berntsen's non-fiction book Jawbreaker, followed a failed mission to capture the terrorist leader in the wake of 9/11 and was adapted for the screen by Cyrus Nowrasteh (The Path to 9/11, The Stoning of Soraya M.):
The heavily vetted book detailed how close those forces came to finding and executing bin Laden in the rugged mountains of Tora Bora until they were pulled back after a decision was made to let Pakistan tribal leaders lead the search -- a decision which experts felt helped bin Laden get away.
In any case, whatever happens to these film projects, bin Laden's death is a unifying cultural event of enormous magnitude and marks a historic emotional moment for this generation. Feel free to sound off in the space below on the aforementioned films or with your non-film thoughts and share your reactions to the historic event with the Movieline community.
· Pair Of Hunt For Bin Laden Projects Could Be Timeliest Movies In Hollywood Now [Deadline]
[Photo credit: Getty Images]