Kevin Feige Says Avengers Out-ZOMGs Transformers 3, Might Want Michael Bay in the Marvel Family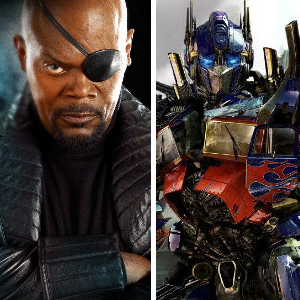 Marvel Studios head Kevin Feige admitted over the weekend to having a little Transformers envy; when you're in the business of making blockbusters, you tend to check out the competition. But a day after being impressed by the epicness on display in the Transformers: Dark of the Moon trailer, his anxiety dissipated the moment he beheld Sam Jackson as Nick Fury in dailies from The Avengers. Said Feige: "I'm not worried anymore." Gauntlet thrown, Michael Bay!
...or maybe not. It's more of a healthy respect for Bay's knack for geek-baiting visuals and action writ large that Feige expressed to Collider while doing press for Marvel Studios' Thor:
"It is unbelievable. You look at something like that and you go, 'That is gigantic. That is huge. That is awesome. Wow. Boy, we have to equal that.'"
According to Feige, that's just what the currently-filming Avengers will do, if dailies from the first days of shooting are any indication. Sam Jackson as Nick Fury on the Helicarrier > Transformers fighting in the streets of Chicago?
"Literally an hour later I go into the dailies of The Avengers from the first few days of dailies. I saw Sam Jackson as Nick Fury in a slightly redesigned outfit with the eye patch turning around on the bridge of the Helicarrier and I went, 'Oh. That is cooler than anything else. That one shot. That one thing.' I'm not worried anymore."
Naturally, Collider's Steve Weintraub had the presence of mind to ask the next logical question: When will Feige just hire Bay to direct a Marvel movie?
Feige: "I don't know. We will see. Is he really done with Transformers?"
"Yeah. This is his last one. His schedule opens. It's something to think about. I'm just throwing that out there."
Feige: "Wow. Interesting."
All of which begs Movieline's question: Which Marvel property is epic enough for Michael Bay?
· Marvel's Kevin Feige Talks THOR, AVENGERS, ANT-MAN, DOCTOR STRANGE, Animated Movies, and Reveals What's in Odin's Vault [Collider]