Chris Hemsworth and Co. on Avengers Ego-Clashing and Thor Sequel Plans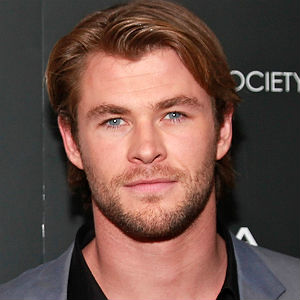 With Thor poised to kick-off the next chapter in Marvel's superhero empire this week, the film's stars and creatives found themselves looking to the future at a press conference Sunday in Los Angeles. Though actors Chris Hemsworth and Tom Hiddleston were loath to drop details on the currently-filming Avengers, they gave a teaser of what to expect when their godly alter egos collide with human superheroes like Iron Man and Hulk in the Joss Whedon-helmed 2012 pic.
"I think the thing that looks like a challenge is actually the reason it will work," said Hiddleston, who will drop by The Avengers to reprise his role as the mischievous Asgardian god (and main antagonist of Thor) Loki. "As in, how can one movie contain so many different flavors and colors and characters?"
"I think Joss Whedon has probably made that a strength," he continued. "The conflict between each of them will be something that will be expanded on."
Hemsworth agreed, crediting the trick of balancing a film packed with charismatic superheroes to Whedon and the Avengers scripting team. "We don't balance all the other characters, it's the writer and Joss Whedon, who's the writer and director. His job is to sort of navigate that. We come in and help him, and that's all you can really concern yourself with. But I definitely think it will be an interesting combination. As Tom said, why it will work is that conflict and those larger than life characters and egos clashing. There's some great tension there."
But what of potential standalone Thor sequels? Director Kenneth Branagh, who was taken by surprise last week when Movieline queried him about an announcement that sequels were already in the works, first demurred to Marvel head Kevin Feige.
According to Feige, the studio's playing it safe; they'll wait to see how well Thor does at the box office before officially announcing sequels. "Listen... we've got 600+ issues, we've got a thousand years of mythology -- we have other stories we'd like to tell," Feige said. "The audience will tell us whether they'd like to see those other stories, but we have to be prepared for that, if we should get the call."
"Don Payne is working on story ideas for a Part Two," Feige continued. "We've got various options with Ken [Branagh] to discuss coming back, but right now the focus is on the first one."
"Don is, slowly but surely, thinking about where to take the character next should we be so lucky."
Branagh shared in the hesitant optimism. "Kevin and I share the Irish Celtic superstition of taking anything for granted, and the Marvel world is a world of non-assumption. When I first started in the film business -- forgive the language I'm about to use -- a producer said, 'Assumption is the mother of all f*** ups.' So we are assuming nothing; we are offering the film out to the world and we shall listen."
Meanwhile, Thor's supporting players named other Marvel Universe characters that they'd love to portray on the big screen. "I have one!" volunteered Jaimie Alexander, who plays Asgardian warrioress Sif. "X-23." (X-23, AKA Laura Kinney, is a female clone of Wolverine to whom Alexander bears an uncanny resemblance.)
Idris Elba, who plays the Asgardian gatekeeper Heimdall, joked that he'd like to play Loki before reiterating his previously publicized desire to play an iconic '70s-era Marvel superhero. "I think I'd like a stab at Luke Cage."
Kat Dennings, meanwhile, plays a new character in Thor who doesn't appear in the comics. She'd like to take her sidekick character, the sardonic college intern Darcy, to the land of the gods. "It'd be cool to see Darcy become something else," she mused, "or to go up to Asgard."
Read The Movieline Interview with Chris Hemsworth and stay tuned for more on Thor this week at Movieline.