Steven Soderbergh Amends Retirement Plans to Make a Stripper Movie With Channing Tatum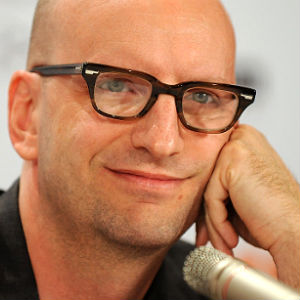 You know how Steven Soderbergh announced last month that he would retire after finishing his Liberace biopic and remaking The Man from U.N.C.L.E.? Well, he wasn't so set on withdrawing from the film business because the 48-year-old director has signed on to direct a Channing Tatum stripper project.
In all fairness, once you hear the film's description, you won't be able to blame the director for extending his career another year or two. According to Deadline, Magic Mike is "a story of friendship set in the world of male strippers. Tatum plays the title character, who schools a young dancer in how to hustle on and off the stage. It's a wild summer of dancing, partying and women. The inspiration for the film is Channing's own experiences as a stripper when he was 19."
Soderbergh explained his decision to take on Magic Mike with an official statement:
"When Channing talked to me about this, I thought it was one of the best ideas I'd ever heard for a movie. I said I wanted in immediately. It's sexy, funny and shocking. We're using Saturday Night Fever as our model, so hopefully we're on the right track."
So yeah, sorry 61.2 percent Guardian UK voters who support a retirement age for artists. Nothing -- not even your online poll beliefs -- can keep directors in their rocking chairs when a Channing Tatum stripper project is dangled in front of them. Soderbergh is expect to squeeze Magic Mike in between Liberace and The Man From U.N.C.L.E. with George Clooney.
· UPDATE: Hold Off On The Retirement Party! Steven Soderbergh Takes On New Pic Inspired by Channing Tatum's Stripper Days [Deadline]