Tony Kaye, World's Greatest Showman, Storms Tribeca with Detachment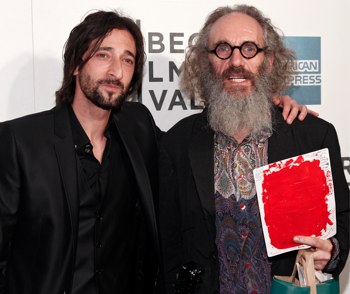 From an event standpoint, anyway, the last major premiere of this year's Tribeca Film Festival did not disappoint on Monday night: Adrien Brody joined filmmaker Tony Kaye to present Detachment, their impressionistic portrait of a public school -- hell, a whole public -- withered by generational angst, low expectations, bureaucracy, ghosts, family turmoil, and the simmering psychosis of everyday New York life. It was good overall, but it was Kaye the folk singer -- duetting with Brody in their introduction -- who left the crowd wanting more.
"I don't care, I don't care," they growled over Kaye's acoustic guitar strums while Tribeca programmer David Kwok held up a red-painted card at the director's request. Kaye later grabbed the card, telling his audience only to "Look for it! Look for it! The color red! Listen to it!" And so on and so forth before exiting stage right with the Whole Foods grocery bag he'd also brought on stage. (Pictures were hard to snap from my vantage point way off to their left, but here's something.) It was kind of just Kaye being Kaye -- the moody, mercurial director of such tortured tales as the white-supremacy saga American History X and the shattering abortion documentary Lake of Fire, a Londoner in thrall to this country's teeming imperfections and hypocrisies, a hypervisionary punching through the pitch black of his obsessions. It just seems so much less despondent when set to music.
But not when set to film. Detachment follows substitute teacher Henry Barthes (Brody) through his extended stay at a Queens high school, a borderline war zone where students would sooner drop a loogie than an apple on an instructor's desk, and where city administrators openly link plunging property values to plunging test scores. This is where contemporary education has gone to die, slowly and painfully. Henry swims through an ensemble-cast cosmos of lifers that signifies inarguably the whitest teaching corps of any inner-city school I've seen: the ballbusting principal (Marcia Gay Harden), the doomed idealist (Christina Hendricks), the invisible family man (Tim Blake Nelson), the irascible veteran (James Caan), the tension-defuser (William Petersen) and the fraught psychologist (Lucy Liu, a rare bit of adult color Detachment otherwise misses and needs with fellow faculty Doug E. Doug and Isaiah Whitlock Jr. relegated to bit parts). Their banter -- about a dead colleague here, a popped pill there -- keeps them sane and human enough amid the savagery. They've all but given up on the kids, defecting to the private sector when the hopelessness of teaching public school finally becomes one humiliation too many.
The ascetic Henry has a little better grip on student/teacher relations, largely informed by his own hellish family history that has culminated in looking after his dementia-addled grandfather. It's these detours into Henry's past that end up straining the real story (from a script by Carl Lund), both anchoring and unmooring the character in 8-millimeter flashbacks when all Henry really wants is to nudge his kids into line. The film's title refers to this central challenge facing the entire school community -- how to listen, how to respond, how to act. But when Henry's motivations threaten his own downfall -- particularly in his befriending of runaway teen prostitute Erica (Sami Gayle) and handling of a gifted but troubled student Meredith (Betty Kaye) -- his spiritual detachment spreads too thin. It's Half Nelson with mommy issues and puppy love where the supply/demand sides of crack addiction used to go. It was flimsy enough five years ago. Today it's flimsy and didactic.
Nevertheless, Brody and co. commit themselves to Kaye, ultimately arriving at the point of viewers asking whether they've made a work of social activism or vast cultural nihilism. Set-ups of great portent (you've never heard the No Child Left Behind Act namedropped with such contempt) dovetail into weird-ass montages of HIV tests and dollar-store frolic, all tied together with interstitials of Brody -- apparently as himself, a one-time NYC public school student and son of a teacher -- expounding on the grave results of good intentions.
After a while, in fact, Detachment feels as though Kaye is telling a ghost story -- a novel, really, with characters and back stories fluttering through magic-hour prisms and saturated nocturnal light, their yelps and groans and pleas and dins and salutations and whispers hand-stiched into narrative breaths, their memories folded into daydreams and pummeled into nightmares, these fluorescent-lit cathedrals of learning dismantled before their inhabitants' eyes, finally windblown into oblivion. The film demands being take seriously even as it testifies to its own futility, like the obituary of some household name you loved as a kid. It's point-blank blame and benediction of teachers themselves, resolving only to leave you wondering how things got so bad while also wondering why no one told you sooner how bad they'd been getting. Resolving, that is, when it's not suggesting you never listened in the first place and most definitely aren't listening now.
Indeed, it's easy to be cynical about any film that appears to revel in undermining its own convictions. But for all of Tony Kaye's creative quirks and difficulties, there's always been an unmistakable redemption in his zeal -- that of a filmmaker to engage with. He's a rare species at this festival and, increasingly, anywhere else for that matter. I can take or leave his pre-screening serenades (or would at least trade them for a post-screening Q&A). And while his Detachment is only fitfully brilliant work, the mere knowledge that it's meant -- and for what, I can't be sure -- leaves me admiring it.