JK Rowling Reveals How Harry Potter Screenwriter Steve Kloves Set Her At Ease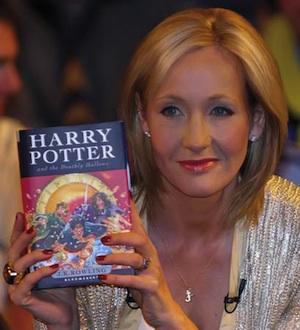 As you may recall, it's unofficially Harry Potter Week at Movieline, and in the latest installment of this apparent celebration, author JK Rowling reveals how her initial apprehension at handing screenwriter Steve Kloves the proverbial keys to her kingdom in the lead up to the adaptation of Harry Potter and the Sorcerer's Stone was washed away with one simple word.
Writing in the April/May issue of Written By, the Writers Guild magazine, Rowling recalls her first meeting with Kloves, some thirteen years ago in Los Angeles.
Steve turned to me while food was being ordered and said quietly, "You know who my favorite character is?" I looked at him, red hair included, and thought: You're going to say Ron. Please, please don't say Ron -- Ron's so easy to love!. And he said: "Hermione." At which point, under my standoffish, mistrusting exterior, I just melted. Because if he got Hermione, he got the books. He also, to a large extent, got me.
And the rest, as they say, is history. Rowling goes on to reveal how close she and Kloves have gotten during the process, and how he was a "compassionate surgeon" when plot-points had to be excised for theatrical adaptation. As for Kloves, in a separate interview in Written By, the Deathly Hallows screenwriter says that people are going to be "surprised" with the final film. "It's pretty amazing." Excited yet?
· When Steve Met Jo: 'Harry Potter's' Creator Remembers Her Collaboration with Steve Kloves [Written By via WGA]