Winona Ryder, James Franco Set for Mind-Warping Drama The Stare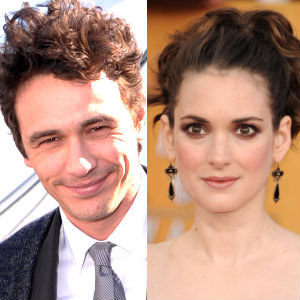 An artist struggles with her latest work, haunted by paranoid visions to the point that she questions her sanity. Is it just us, or does Winona Ryder's next film, The Stare, sound a little -- okay, a lot -- like her last film, Black Swan? Fine. Black Swan didn't also have James Franco portraying some sort of performer. That doesn't sound familiar, either.
Deadline reports that The Stare will begin filming May 6 with Ryder in the lead as a playwright who may or may not be losing her mind. From the report:
The Stare [is] a drama in which a playwright (Ryder) finds her mind beginning to warp as she struggles to launch her next production. She's plagued by dreams and visions of being watched, but can't decide if she's at the center of a manipulative plot or simply losing her grip on reality. Franco plays one of the performers in the playwright's production.
In addition to co-starring in the film, Franco will produce; writer-director Jay Anania was his teacher at NYU and previously directed the Oscar nominee in the 2010 indie/Tribeca entry Shadows & Lies. The Stare will be the first in a slate of films produced by new shingle Waterstone Entertainment, which will also include two films that Franco will produce, one of which he will also direct.
No word yet on how staring will come into play, but for fun's sake let us hope that a staring contest happens at some point. In which case, our money's on Ryder's doe-eyed gaze to outlast Franco's stoner squint.
· James Franco, Winona Ryder Pic 'The Stare' Launches Waterstone Entertainment Label [Deadline]