Gone With the Wind Fetishists Finally Get Their Close-Up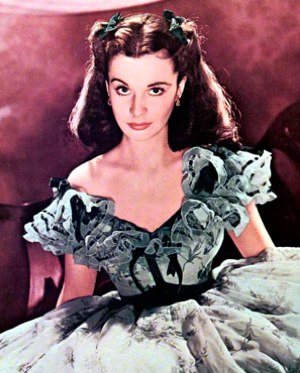 This year marks the 75th anniversary of the publication of Gone With the Wind, Margaret Mitchell's novel about Civil War-era Atlanta and the source of one of Hollywood most legendary cinematic enterprises. And because nothing says "party" like an epic tale of 19th-century privilege, slavery, violence, privation, defeat and heartbreak, the "Windy" subculture is getting together to celebrate.
According to the NYT, scores of devoted "Windies" are preparing to converge on Atlanta for a real barnburner -- err, megabash, or something -- led in part by one Selina Faye Sorrow, a Georgia woman with a house full of GWTW memorabilia and a sideline in Scarlett O'Hara dress replication. Get out the green velvet curtains -- and prepare to have your mind blown:
"I love that time, with the struggles and the way they got through it all," Mrs. Sorrow said, trying to explain how a slight interest grew into full-blown worship. "It just seems like it would have been a precious time to enjoy being a lady."
Gone With the Wind means a lot in Atlanta. After all, Ms. Mitchell, who published her novel in 1936, lived, died and was buried here. Her story of the South before and after the Civil War is one that Atlantans, who like to joke that they only get burned once, hold as one of the city's great contributions to American culture.
For the Windies, however, Atlanta is the promised land. Most are already making plans to head there in June for the anniversary. The celebration -- events at three Gone With the Wind museums, the premiere of a documentary, a Champagne toast at Ms. Mitchell's grave -- is being billed as "a global pilgrimage to Atlanta."
Connie Sutherland, director of the Marietta Gone With the Wind Museum, is a student of the Windies. She says they are mostly middle-aged straight women and gay men, and usually white. But a new crop of younger, more diverse Windies is popping up at high schools and colleges, she and veteran Windies said.
"They just didn't know there are others who feel that way about it, too," Ms. Sutherland said. "It becomes a whole social network."
"Usually white." Never would have guessed. Anyway, while Gone With the Wind is a pretty good Atlanta product, let's face it: It's no Madea Goes to Jail, and when Tyler Perry hears about this, he's gonna pissed. That said, it is better than CNN, so... yeah. Party on?
· Frankly, My Dear, the 'Windies' Do Live for This [NYT]