Even Mickey Rourke Knows Passion Play Is 'Terrible'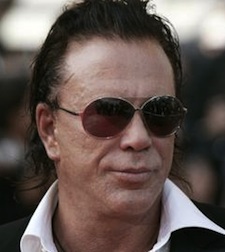 As anyone who followed awards season back in 2009 knows, Mickey Rourke is nothing if not outspoken. And honest. Brutally honest. Just take his comments at the premiere of Scream 4 on Tuesday night, when Rourke was asked about the upcoming -- and soon going -- new film Passion Play.
Said the Oscar winner nominee to Vulture:
What about your movie with Megan Fox and Bill Murray?
Terrible. Another terrible movie. But, you know, in your career and all the movies you make, you're going to make dozens of terrible ones.
You called Megan Fox, like, one of the best actresses of all time.
That I worked with [smirk].
That movie's getting limited release.
That's because it's not very good.
Perhaps Image Entertainment can stick that on the DVD box. To be fair, Rourke also used the interview as an opportunity to assail his other unreleased film, 13, which co-stars 50 Cent: "[I]t's so bad it can't get out." Mickey Rourke, everyone!
· Mickey Rourke Takes Back the Nice Things He Said About Megan Fox [Vulture]