Watch Donnie Yen Go Ballistic on Some Germans in the Opening Scene of Legend of the Fist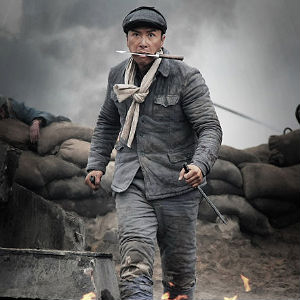 Hold on to your hats, action buffs, because Hong Kong star Donnie Yen is about to blow your minds. In this Movieline exclusive clip from Legend of the Fist: The Return of Chen Zhen, Chen Zhen (Yen) -- in France with his fellow countrymen to help the Allies -- decides he's had enough with this trench warfare b.s., grabs a couple of knives, leaps, slides and sideways runs his way through a barrage of bullets, and single-handedly takes out a squadron of Germans. Thor, Transformers, Captain America -- the gauntlet has been thrown down.
In Well Go USA and Variance Films' Legend of the Fist: The Return of Chen Zhen, Yen tackles one of the most iconic figures in Chinese cinema -- Chen Zhen, legendarily portrayed by Bruce Lee in Fist of Fury. After fighting for the Allies in WWI, Zhen returns home under a presumed name, living by day as a Bruce Wayne-type playboy. But Zhen has a secret identity; at night, he dons a Kato mask to fight the invading Japanese in disguise, becoming a figure of the resistance.
Yen's been around for years (he's 47 years young) and has arguably emerged as the martial arts star of the millennium, on par with Jet Li (with whom he memorably appeared in Once Upon a Time in China II and Hero) and Jackie Chan (with whom he appeared in, uh, Shanghai Knights). Yen also served as action choreographer/director on Legend of the Fist, which is in select theaters April 22.
The sequence above takes place at the beginning of Legend of the Fist and expands on what was glimpsed in the first trailer. After watching Yen in action, it's hard not to draw comparisons. Why do Hollywood action scenes never feel quite this visceral or exciting? Do any Western action stars have the skills to Tarzan-swing their way into the sides of buildings and knife-climb their way to the top? And how soon until studio films start aping Yen's style in search of the next big action phenomenon?