Nerd Alert! Anne McCaffrey's Dragonriders of Pern Movie Is Actually Happening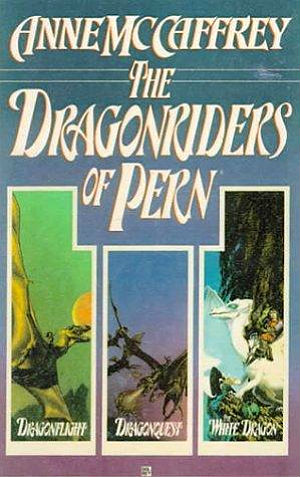 In news that might have caused my fifth grade self to break out in an awkward dance of joy, there is actual movement on a long-attempted adaptation of Anne McCaffrey's The Dragonriders of Pern series. X-Men writer David Hayter will reportedly adapt Dragonflight, the first novel in McCaffrey's celebrated book series set on the planet of Pern, where generations of humans form telepathic links with fire-breathing dragons to defend themselves from a deadly enemy known as Thread.
Allow me a moment to geek out over McCaffrey's Pern series, which has been a staple of any sci-fi/fantasy-loving geek kid's personal library for decades. At least, it served as such for me; I spent my youthful days devouring every installment in McCaffrey's 19+ book series (she wrote additional Pern stories with son Todd). Though Hayter is starting with the first novel, originally published in 1968, there are literally generations upon generations of Pernese stories to tell, including more traditionally sci-fi-oriented origin tales. But embarking on this franchise, with its many potential sequels and prequels, should be no small commitment for whichever studios and production companies might eventually come on board.
According to HitFix, Don Murphy and Susan Montford's Angry Films are currently involved and production is slated to begin in early 2012, but there's no director or cast yet attached. And, as a warning to hopeful fans, remember that this is not the first time an attempt has been made to adapt the Pern saga for the screen; before current production company Copperheart Entertainment optioned the rights, The WB was attempting to make a version for television under Ronald D. Moore (Star Trek: The Next Generation, Star Trek: Deep Space 9, Battlestar Galactica) and had even built Ruatha Hold and Benden Weyr sets before production was halted days before it began.
But with its blend of fantasy, romance, science fiction, and medieval-like setting, Pern is a fictional world rife for cinematic imagining. One would assume CG effects will be involved in the depiction of its dragons, who, bound to their human counterparts at birth, take flight to mate (trust me, it can get pretty hot what with the humans linked psychically on the ground) and fight the spores that rain down periodically upon the world, devouring everything organic in sight. Fans might hope that the adaptation has the budget to cover massive sets and casts on the scale of a Lord of the Rings, WETA-driven production -- or else have a director with a really good workaround plan.
More as it develops... in the meantime, where my Pern fans at? Chime in below.
· X-Men scribe David Hayter will adapt first 'Dragonriders of Pern' novel [HitFix]
[Original cover art by Michael Whelan]