First Episode of Mortal Kombat: Legacy Features Kano, Jax, Sonya Blade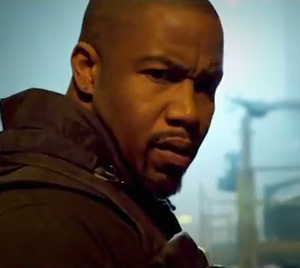 The Mortal Kombat: Legacy web series starring Michael Jai White as Jax and Jeri Ryan as Sonya Blade has finally premiered, sustaining director Kevin Tancharoen's tacit promise to do justice to the beloved '90s video game where Paul W.S. Anderson's 1995 feature film version decidedly did not. After the jump, watch the first 12-minute episode and decide if it delivers enough action, Mortal Kombat references, and fatalities to satisfy.
This is the first of ten episodes ordered by Warner Premiere, all of which will debut via Machinima. And if it takes a bit to get going, rest easy; though it begins with an extended scene of baddie Kano (Darren Shahlavi) inspecting the wares in his robotic weapons factory, the episode goes on to introduce series players Lt. Sonya Blade (Jeri Ryan), her superior Jax Briggs (Michael Jai White), and his bureaucratic cop colleague Kurtis Stryker (Tahmoh Penikett). And eventually, the bullets, blood squibs, and explosives fly.
What you'll still have to wait for: The appearance of game favorites like Scorpion, Johnny Cage, Sub-Zero, Raiden, and Kitana; heart- and arm-ripping finishing moves; the activation of Kano's red eye laser, cheekily shown here as one of his weapons in development; "Finish hiiiim!"