What in the Name of the The Actor's Studio Was James Lipton Doing Onstage with Charlie Sheen?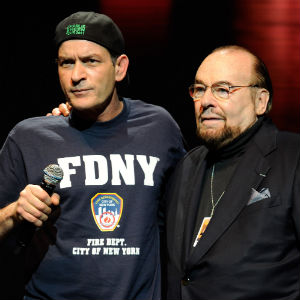 It's a question any fan should be asking of venerable actor, bon vivant, and Inside the Actor's Studio host James Lipton: "What would you like to hear God say when you arrive at the Pearly Gates and have to explain that one time you mounted the stage as part of Charlie Sheen's train wreck of a one-man show?" Because that's exactly what our favorite man of words and theater did Sunday night at Radio City Music Hall, where he and fellow special guest Darryl Strawberry (hey, why not?) helped Sheen earn a standing ovation. Video evidence after the jump.
Sadly, it seems Lipton was only on hand to set up a joke for his one-time Inside the Actors Studio guest, asking Sheen to name his favorite curse word. (The answer: "Either f*** or Denise." Of course.) Oh, for the days of serious penetrating conversation between these two, as when Sheen visited Lipton's domain back in Season 10 of ItAS to discuss such stimulating topics as... the writing on Two and a Half Men.
Hit the video below to see Lipton on the Violent Torpedo tour, then watch the Inside the Actors Studio clip and weep as he projects that great baritone laugh as Sheen talks about what's in his pants.
· James Lipton came up onstage with Charlie Sheen [Film Drunk]