Peter Jackson Explains Why He's Filming The Hobbit at Groundbreaking Frame Rate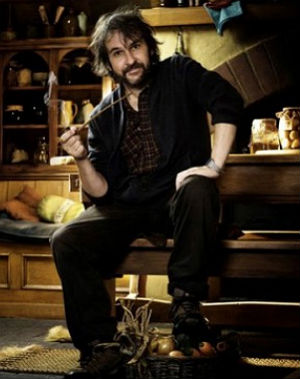 Writing from the set of The Hobbit, Peter Jackson took to Facebook Monday to blog his thoughts on filming at 48 frames per second -- the increased frame rate championed by folks like James Cameron, who will use it to blow minds in Avatar 2 and 3. Jackson is currently filming The Hobbit in 3-D at 48 fps instead of the industry standard 24 fps, and as a result, the Lord of the Rings follow-up will be the first wide release to pave the way into a brave new digital world of filmmaking -- whether or not theaters around the world are ready for it.
"We are indeed shooting at the higher frame rate," wrote Jackson, enthusiastic about the increased picture clarity and reduced eye strain that shooting a 3-D film at 48 fps allows. "The key thing to understand is that this process requires both shooting and projecting at 48 fps, rather than the usual 24 fps (films have been shot at 24 frames per second since the late 1920s). So the result looks like normal speed, but the image has hugely enhanced clarity and smoothness."
Although most films are currently shot at 24 fps and have been for years, Jackson explains that there's no good reason for filmmakers to remain hampered by the reduced frame rate now that digital technologies have reduced the cost of filmmaking. The biggest issue, for Jackson and other filmmakers who follow suit, is that theaters with digital projectors will have to make adjustments in order to project 48 fps films.
"We are hopeful that there will be enough theaters capable of projecting 48 fps by the time The Hobbit comes out where we can seriously explore that possibility with Warner Bros.," he continued. "However, while it's predicted that there may be over 10,000 screens capable of projecting The Hobbit at 48 fps by our release date in Dec. 2012, we don't yet know what the reality will be. It is a situation we will all be monitoring carefully."
· 48 Frames Per Second [Peter Jackson]