Dennis Quaid on Soul Surfer, Footloose and Turning Down Tombstone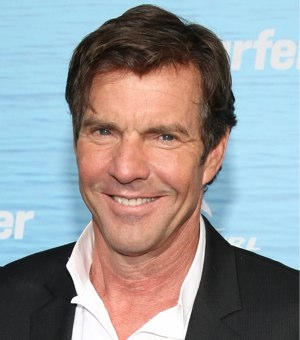 Dennis Quaid is just one of those actors. You know what I mean. You've been watching his movies your entire life, reveling in his gravitas and Cheshire Cat grin. This weekend he returns to theaters in the feel-good/comeback sports biopic, Soul Surfer, and while we've all seen the actor in this mode before, this time there's a catch: It's not his comeback.
Quaid plays Tom Hamilton, father to Bethany Hamilton (AnnaSophia Robb), the real-life surfing prodigy who lost her left arm in a shark attack only to recover and embark on a pro career. Movieline caught up with Quaid for a wide-ranging discussion covering everything from the religious controversy around Soul Surfer to some of Quaid's most memorable roles -- including the time he had to choose which Doc Holliday he wanted to play: Wyatt Earp's or Tombstone's
Why do you continue to insist on making sports movies that make me cry?
[Laughs] Because I'm just that kind of guy, that's all. You know, I don't know. I didn't set out to. Somebody counted out for me in some interview the other day how many, because I've never counted. But I think it's like eight sports movies. And it's not like I went out looking for them or whatever. But when I read a script, it's the only time I get to be an audience member with it being the first time I'm experiencing that. Sports movies, if they're well written, they have such great drama in them. I look for a good story. Usually the best stories are the ones that are unbelievably true. Soul Surfer is one of those stories.
Speaking of true stories, is it difficult playing a real person who is still alive who is not a public figure? As opposed to someone like Bill Clinton or George W. Bush.
Clinton, that's very daunting. I didn't play Bush, by the way...
OK, a caricature of Bush.
A person who may seem like Bush -- otherwise I would have gotten closer. But playing Bill Clinton is really, probably, the scariest time of my career.
Really?
The greatest challenge, for sure. Because I'm playing the most famous man in the world, really. And I didn't really think I look like him and I had no idea why they wanted me to play him.
And opposite Michael Sheen, who is pretty used to playing Tony Blair.
Right! But I've known him since back in the '90s when he was in the White House, and I thought it was one of those things that I keep saying in life: "Hey! You should always do the thing that you're most afraid to do." And this was the thing I was most afraid to do. So I figured that I might as well do that. But with this it presents a completely different set of circumstances because you don't have to necessarily work to look like the person. You know, it's more about capturing the spirit of the person. And with all the characters that I've played that were real people, I try to tell the story from their point of view within the context of the screenplay.
Did you have to be more delicate with playing Tom because he's not a public figure?
No, not at all. In fact, they were on set the entire time, which I really found fantastic because I don't have to think about to conjecture about what the person was feeling. All I have to do is just turn around and ask him. [Laughs] And Tom and I bonded a lot on this film.
You had to surf in this film. What's your surfing background? Can you surf in Galveston?
I may have once or twice as a kid been out on a surfboard on what they call "surf" in Galveston. But I was never a surfer; basically zero experience. But I had a month and a half before we started shooting, and they had the best teachers in the world. They took me into their world and took very good care of me. You know, by the time it got to my scenes, I was able to get up and turn and be there at least for four seconds without looking like a total fool.
To be honest, one of my first thoughts after seeing this movie was, "I need to get to the gym." There are a lot of in shape people in this movie.
[Laughs] With spray tans!
That's true, too.
Yeah, it's total vanity. It really is at this point.
Pages: 1 2