Where Does Helen Mirren Rank Among Saturday Night Live's Oldest Hosts?
This weekend, Helen Mirren, at the age of 65, will become the ninth oldest host in the history of Saturday Night Live. And while the young and spry are terrific for a variety of reasons, let's not forget that some of the greatest moments in SNL history have come from some of its more seasoned hosts -- including one 80-year-old unknown who resulted from a write-in campaign. (Yes, this happened.)
1. Betty White (88)
What's interesting about the Betty White hosed episode was the amount of... let's say backup plans that were in place that night. Tina Fey, Molly Shannon, Maya Rudolph, Rachel Dratch and Amy Poehler all were on hand... just in case. And with good reason: White, at the time, was 88 years old. The week spent as SNL host is an exhausting process, and no one wanted White to look bad in case fatigue set in. In the end, however, there were 13 sketches the night Betty White hosted (including the monologue and "Weekend Update") -- she appeared in every single one of them.
2. Miskel Spillman (80)
Probably the oddest hosting story in the history of Saturday Night Live. On an October 1977 episode, Lorne Michaels announced a contest titled "Anyone Can Host" on air; in November, Spillman, along with four other finalists (out of 150,000 entries), were presented on the air with an audience write-in vote determining the winner. Spillman won the write-in vote and hosted (with some help from Buck Henry) the Dec. 17, 1977, show -- you can watch some of the monologue where she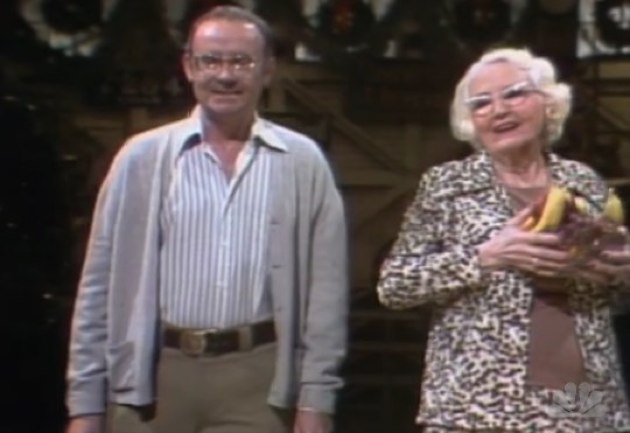 3. Ruth Gordon (80)
Gordon is best known to younger audiences for playing the latter title character in 1971's May-December cult comedy Harold and Maude. An odd choice for SNL host -- put it this way, Gordon was born in the 19th century -- Gordon nevertheless mentions in her monologue that she's up for new things! The night's most well-known sketch didn't include include Gordon, though; The opening sketch centered on John Belushi being in no condition to perform on the show that night -- at least, that is, until his doctor threatened to take his drugs away.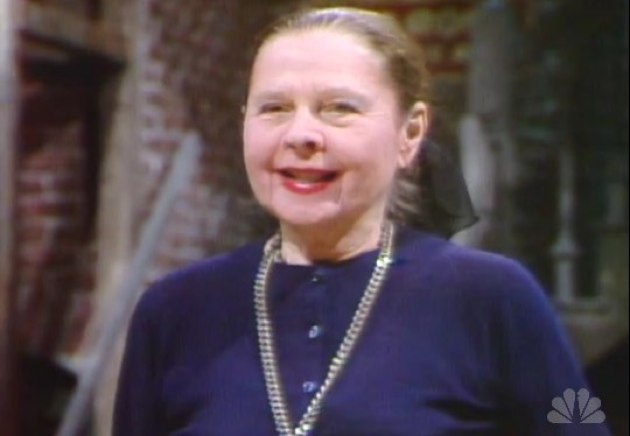 4. Milton Berle (70)
Ah, yes, Uncle Milty. Not only is he on the "oldest host" list, he's also very much on the "worst host" list. Berle was from a different era when it comes to live performances: Exaggerated double takes and preordained standing ovations were on the menu for Berle that evening -- precisely the opposite of the kind of show that Michaels was trying to produce. Not surprisingly, the two didn't get along. More SNL infamy ensued when Berle showed off his renowned large penis for writer Alan Zweibel in Berle's dressing room; as Zweibel told Tom Shales in Live From New York, "He parts his bathrobe and he just takes out this -- this anaconda. And he goes, 'What do you think of the boy?'"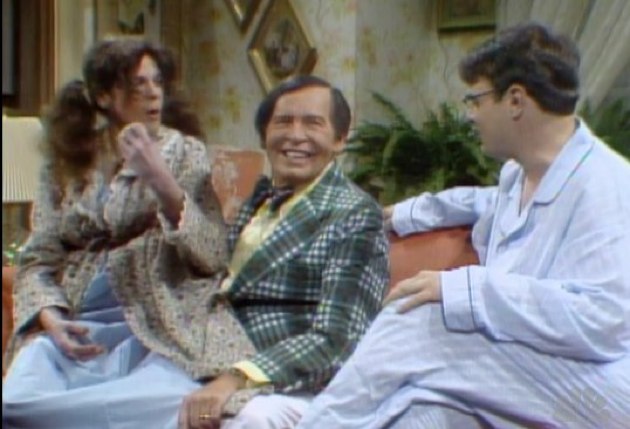 Pages: 1 2