Do Newly Released FBI Files Support Conspiracy Theories in 2002 Documentary Biggie & Tupac?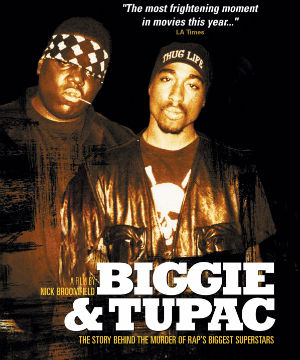 Back in 2002, documentarian Nick Broomfield released the documentary Biggie & Tupac, theorizing that Death Row Records exec Suge Knight and members of the LAPD may have been involved in the still-unsolved 1997 murder of rapper Christopher "Biggie Smalls" Wallace. This week, the FBI released eight years' worth of heavily redacted files on the case, including confirmation of some of Broomfield's theories.
Over 300 pages of documents were made publicly available Wednesday, filled with witness testimonies and notes about the Biggie murder and those suspected to be involved. Redacted to remove key names, the files fail to reach a firm conclusion (charges were never filed in the murder investigation, which remains open) but nonetheless contain information that support certain assertions in Broomfield's 2002 documentary concerning police corruption and LAPD ties to Suge Knight's Death Row Records.
Excerpted from the FBI files:
"LAPD officer [redacted] and other alleged LAPD officers were Mob Piru Blood gang members that worked with and affiliated with Death Row Records."
"LAPD officers worked for Death Row as security officers and many of them were involved in crime."
"It is alleged by several CIs that [redacted] were directly involved in the Biggie murder, and that other police officers were aware and/or present as well... It is also widely known amongst LAPD officer [redacted] were two of Chief Parks' 'personal recruits' into the LAPD. Once CI started linking LAPD officers with the Biggie killing, he was told to stop and not bring LAPD officers into the investigation."
The files also include a mention of a 2003 meeting between FBI investigators and "a movie producer flying in from London... who has interviewed and video recorded several witnesses of captioned case who have provided contradicting information regarding the death of Christopher Wallace;" did Broomfield's research uncover evidence new to the FBI investigation? An internal memo included in the files reveals that a FBI representative participated in a 2003 E! television special in hopes of encouraging new witnesses to come forward, suggesting the lack of sufficient evidence available to investigators at the time.
Broomfield's documentary was released in 2002 after premiering at the Sundance Film Festival. A wrongful death suit filed against the city of Los Angeles last year was dismissed and the case remains unsolved, while competing theories about the murder persist.
· FBI releases files on Notorious B.I.G. slaying [L.A. Times]
· FBI file on Christopher 'Notorious B.I.G.' Wallace [L.A. Times]