Dear Hollywood: If You Must Remake To Catch a Thief, Consider These 5 Guidelines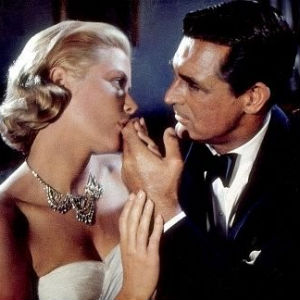 Maybe it's a sign of the times. When I first read the headline about the To Catch a Thief remake, my first thought wasn't, "You bastards!" but instead, "At least it's not Vertigo!" This reaction may have less to do with supporting the remake, and more to do with selectively choosing which completely futile mental battles I wage against remake announcements, but still! Since this movie is probably still several rewrites away from production, I'd like to suggest a few simple guidelines to follow in order to avoid completely ruining everything that made the original work.
1. Keep the international setting
One of the more heartening things -- actually the only heartening thing -- in Josh Stolberg's interview about the script was the fact that he and Bobby Florsheim chose to set it on the Greek island of Santorini. It's an inspired, exotic location for the update -- which was originally set on the French Riveria -- and Greece is a beautiful country that few Hollywood productions explore. Seriously, if the setting changes back to Miami, I'm giving up. The original worked less because of its plot and more because watching beautiful people play cat and mouse in an exotic and beautiful place is fun! On that note...
2. Cast beautiful people
I'm not so worried about this one. Hollywood generally makes sure that everybody is beautiful in heist thrillers. But here's the trickier part: Both actors should also have style, class and sophistication. I've been trying to think of a modern day equivalent to Grace Kelly and I'm coming up short... any suggestions?
3. About those gadgets you mentioned...
I'm all for modernizing the story -- after all, a totally faithful remake wouldn't just be insulting, but also totally pointless (see: Gus Van Sant's Psycho). That said, if the heist involves any computers or online fraud whatsoever, just know that this movie will be much more boring than the original. I'd also suggest not letting the gadgets overwhelm things like character and plot, but given than Stolberg has already invented the word "gadgety" to describe the movie, I suspect it's too late.
4. About those action scenes you mentioned...
OK, fine. Just don't let the action scenes overwhelm the character and plot! Suspenseful and even convoluted heist scenes are great, but I'd rather see one scene that even comes close to capturing the chemistry between Kelly and Grant in the original than a dozen more explosions.
5. Consider hiring Brian De Palma to direct
He's already unofficially remade several Hitchcock films with Obsession, Body Double and Dressed to Kill, and those movies are amazing! In fact, hire De Palma and I'll be there opening day whether any of these other suggestions are taken or not. You can even set it in Miami!