Screen Gems Picks Up Joe Cornish's Brit Alien Pic Attack the Block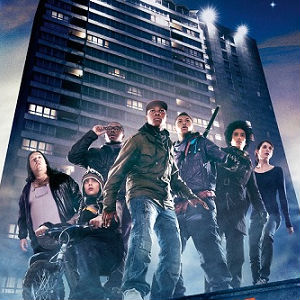 Movieline hero Clint Culpepper strikes again! Sony announced today that it will distribute Joe Cornish's debut feature, the London kids vs. aliens action comedy Attack the Block, via its Screen Gems division. "The film is, at once, charming, scary, funny, hip, clever and completely hits its mark," said Screen Gems president Culpepper in a press release. Guess all that geek cred from SXSW did the film some good after all! Hit the jump for more info and a look at the film's nerdgasm-inducing trailer.
Attack the Block, which premiered at last month's South by Southwest Film Festival to overwhelming praise and the Midnight Audience Award, follows a gang of south London kids who take up arms when aliens invade. Nick Frost, Jodie Whittaker, and Luke Treadaway co-star alongside John Boyega, Alex Esmail, Franz Drameh, Leeon Jones, Simon Howard, and Jumayn Hunter, while frequent Cornish collaborator Edgar Wright serves as an executive producer. (Cornish and Wright co-wrote the upcoming Adventures of Tintin: The Secret of the Unicorn and Ant-Man.)
A release date has yet to be announced, but another question lingers: Statements from Culpepper and Sony president Steve Bersch convey appreciation for the film and the talents of those involved and genre specialist Screen Gems is a good match for the sci-fi actioner, but will Screen Gems feel it necessary to subtitle the heavy accents of Attack the Block's young heroes for American audiences? Early reports pegged prospective buyers as wary of the British accents as a roadblock to mass audience appeal.
Excerpted from Sony's press release:
Culpepper said, "Steve Bersch screened this film for me and I fell completely in love with it. The film is, at once, charming, scary, funny, hip, clever and completely hits its mark. I hope this is the beginning of a long relationship with these incredibly talented filmmakers."
Bersch stated, "ATTACK THE BLOCK has already proven to captivate the SXSW audience with its unique and suspense filled plot including our executives Scott Shooman and Lia Buman who saw it during the festival and raved about it. Joe has created a piece of work we know the masses will enjoy and we are thrilled to be bringing it to a larger stage through Screen Gems."
ATTACK THE BLOCK follows a gang of tough inner-city kids who rob Sam (Whittaker) as she is walking home in a scary South London tower block. She flees when the gang is attacked by a small alien creature which falls from the sky. While Sam and the police hunt for the gang, a second wave of creatures falls. The gang grabs weapons, mount bikes, and set out to defend their turf. But this time, the creatures are much bigger. Savage and bestial, nothing will stand in their way. And the bunch of no-hope kids who just attacked Sam are about to become her only hope.
For now, check out the trailer for Attack the Block and count the seconds until Screen Gems announces a U.S. release date.