Can Thor Broker Hunger Games Peace Between Team Peeta and Team Gale?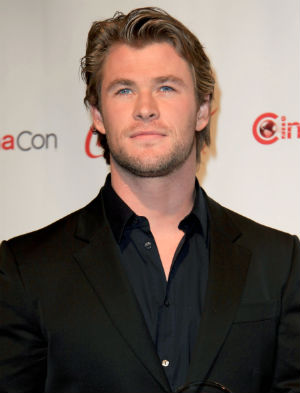 Chris Hemsworth, the Norse god Thor himself, revealed recently that he helped brother Liam rehearse for his Hunger Games auditions by reading the part of Katniss aloud. Liam eventually landed the part of Gale, one of two young men in love with Katniss (Jennifer Lawrence) in Lionsgate's 2012 adaptation of Suzanne Collins's YA novels, but lest you assume that means the elder Hemsworth is unequivocally on Team Gale, think again. Talking with Movieline he explains his ties to Liam's future on-screen rival, Josh Hutcherson, and how they've landed him firmly in the middle of the Peeta-Gale conflict.
Hemsworth hits screens as the blond, muscle-bound Marvel superhero Thor this May and is gearing up to don his Thor duds once again in Joss Whedon's Avengers, currently in production. When Movieline caught up with Hemsworth by phone Tuesday (full interview to come), the 27-year-old Australian actor spoke of his unique relationship with the future rivals of Gary Ross's Hunger Games trilogy.
"I worked with Josh Hutcherson on Red Dawn and had such a great time with him," said Hemsworth. "I still keep in contact with the guy. And Liam, obviously we run our stuff together and go over auditions and work together."
Caught in the middle between the two young men, it looks like Hemsworth has even more in common with the tortured heroine of The Hunger Games than previously thought. "That's right, I'm on the other side of Katniss," Hemsworth laughed. "Having worked with both of them, they're both incredibly dedicated actors. And it's the best combination."
The Peeta-Katniss-Gale love triangle doesn't quite heat up as aggressively in Suzanne Collins' novels as the Edward-Bella-Jacob relationship does in Stephenie Meyer's Twilight Saga. Hemsworth is optimistic that the Hunger Games conflict between Hutcherson and his brother will remain peaceable.
"They know each other outside of this as well, and I couldn't be happier that they're working together, especially on a film like this which has such a fan base," Hemsworth added. "People are very dedicated and passionate about it, and I think they can feel safe that [the filmmakers] have made the right choice."