Weekend Forecast: Will Hop Poop Jelly Beans of Victory All Over Source Code, Insidious, and King George VI?
Now that everyone's seen the opening six minute sequence, Zack Snyder's Sucker Punch is poised to empower its way to a box office comeback in its second week of release. Just kidding; April Fools came early this year! Oh, laughs. (Sadface, Sucker Punch.) There's plenty more where that came from as we head into this week's candy coated weekend forecast. Monday morning prediction: Cadbury eggs and jelly beans for everyone at Universal!
NATIONAL OUTLOOK
• Hop: Universal's the first studio to jump into the Easter movie game, and they're doing it in a big way: with Russell Brand and emerging goofball James Marsden on board to appease the grownups (not to mention The Hoff in a bizarrely self-aware cameo), Hop aims to cover all the bases on its way to box office domination. Cuddly talking animals conceived with maximum merchandising tie-in potential abound, as do conspicuous references to official brand partners like Hershey's Kisses ™. All of which will only help Hop rake in the dough even after opening weekend, when the family crowd will surely buy tickets in droves even though our own Stephanie Zacharek warns it's more Alvin and the Chipmunks than Despicable Me. But masochists with a sweet tooth and tots in tow never listen, do they?
FORECAST: $28M
• Source Code: The makers and marketers of Source Code would like you to know that the Duncan Jones-directed science fiction thriller is "the best-reviewed studio movie of the year so far." All most audiences will need to know is that it stars the appealing (though not always appealing according to Prince of Persia receipts) Jake Gyllenhaal, it's vaguely sci-fi, and only real date movie opening this week.
FORECAST: $17.5M
• Insidious: ... that is, unless you like for your date to jump so far out of their seat that they land in your lap, which is one of the goals of James Wan's spooky tale Insidious. And what brings special friends and blind dates closer together than jump scares and the supernatural, a la Saw and Paranormal Activity? (Only a shared revulsion of/fascination with Rebecca Black's "Friday." Thought you could get away from us this week, Rebecca? YOU THOUGHT WRONG.) The genre crowd hasn't had anything to sink their teeth into since February's The Roommate, so they should be hungry for new horror, and despite mainstream competition from Hop and Source Code, Insidious should do well enough given its name cast, gimmicky appeal (a creepy kid, a haunted house, AND Lin Shaye channeling Zelda Rubenstein?) and decent word of mouth.
FORECAST: $12M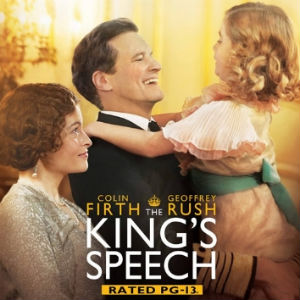 INTERNATIONAL WEATHER SERVICE
The King's Speech (PG-13): Which is higher, the number of thirteen-year-olds clamoring to see an age-appropriate version of Oscar-winning period biopic The King's Speech, or the number of people who've already seen the expletive-filled original version and want to see it again, sans F-bombs? I'd say it's about even.
REGIONAL OUTLOOK
Susanne Bier's In a Better World came out of nowhere (well, Denmark) to nab the Best Foreign Oscar, and this weekend cinephiles in New York and L.A. get to see if it really was better than Oscar rival Dogtooth, the Greek incest parable championed by hipsters everywhere. Expect those very same hipsters to hit up the killer tire flick Rubber, directed and scored by Quentin Dupieux AKA Mr. Oizo. Meanwhile, our own Michelle Orange gave high praise for David Schwimmer's latest directorial effort/teen internetting cautionary tale Trust, but if you just want to see Ellen Page and Rainn Wilson break some heads, there's always Super.
But no matter what you choose this weekend, folks, remember this lesson from Hop as you snarf your concession stand goodies: Jelly beans are really Easter Bunny poops. That's why they're so delicious.