Watch the Jackass 3D Guys Send Britney Spears Aloft in a Porta-Potty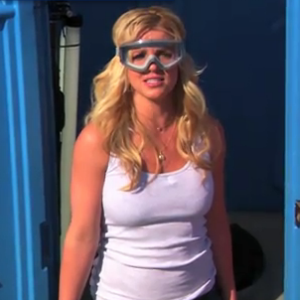 Johnny Knoxville knows what the people want. They want to see grown men hit in the junk with all manner of blunt objects. They want to watch beehive tetherball. And everyone wants to watch Britney Spears climb into a Porta-Potty filled with you-know-what and get launched into the stratosphere, a la Steve-O, in a "deleted scene" from Jackass 3D -- which is just what Knoxville gifted to the world when he visited Jimmy Kimmel last night.
"Are you scared of... poo poo?" Knoxville asks in the video as Spears prepares to enter the infamous "Poo Cocktail Supreme." No, Brit Brit ain't scared of no poop! (And if she was, would you hold it against her?)
Strap 'er in and let it fly, Johnny!
· Britney Spears' Cut Scene From 'Jackass 3D' [THR]