The Mystery of Natalie Portman's Butt in Your Highness: SOLVED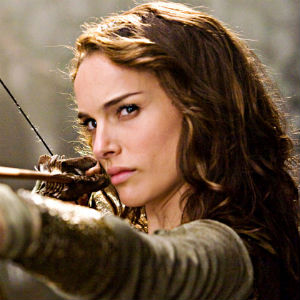 Another day, another Natalie Portman authenticity scandal. But this one isn't about how much dancing the Oscar-winner did or didn't do in Black Swan; it's of even more significance, to a certain segment of the movie-going audience: Did Portman use a butt double in her upcoming medieval comedy, Your Highness?
If you've been following David Gordon Green's Your Highness and have been watching the trailers on a loop like a good fanboy (or girl), you know the butt shot in question: Natalie Portman, in character as the warrioress Isabel, strips down to her metallic medieval skivvies to take a refreshing dip in a pond while James Franco and Danny McBride spy from afar.
Speaking with Movieline for an interview posting next week, Green praised Portman's willingness to don the revealing costume for her role. But, as Film Drunk reports, an Irish model named Caroline Davis has taken credit for doubling Portman in the scene, which presents a troubling question: Could Portman have pulled a Vera Farmiga in Up in the Air and used a stand-in for that ass?
This is the part where you rewatch clips from Your Highness to investigate the would-be scandal... and find that Portman is clearly the one standing pondside shedding her medieval pants to reveal her own medieval rump in that medieval thong. After an exhaustive investigation, Film Drunk determines that the Irish butt double was used only in the diving portion of the scene in which Portman's face is obscured, which makes sense.
Not coincidentally, the lone keyword entry associated with Your Highness so far on IMDB? "Thong bikini."
So there you have it. Who cares about who performed which plies and pas de bourrée when Important Celebrity Butt Mysteries are being solved?
· Natalie Portman used a butt double [Film Drunk]