More Gore, Severed Limbs Highlight Kill Bill: The Whole Bloody Affair
Quentin Tarantino fans have been holding their collective breath for the combined version of Kill Bill Vol. 1 & 2 for years (a home video release is still TBA), but Sunday night in Los Angeles the holy grail of special cuts debuted theatrically at the New Beverly Cinema with more gore, more severed limbs, and a handful of minor changes. On Tarantino's birthday!
Kicking off an exclusive two-week engagement at the New Beverly Cinema, an L.A. institution of which Tarantino is a guardian angel of sorts, the unrated 247-minute Cannes cut of Kill Bill: The Whole Bloody Affair played twice to sold-out crowds on Sunday. QT introduced the afternoon matinee screening, where the packed house sang "Happy Birthday" and were the first to snatch up limited edition posters by artist Tyler Stout. (At $50 a pop and sold strictly in batches at each screening, the MondoTees release was in such high demand that would-be buyers queued up outside before Sunday evening's screening just to snag a copy, thrusting cash at ticket holders hoping they'd buy by proxy inside the theater; the evening's limited supply of posters sold out in minutes.)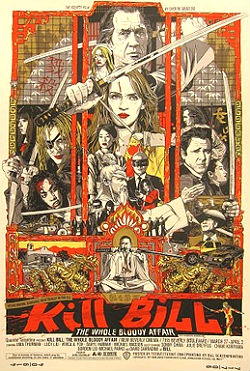 That kind of fervor for Kill Bill: The Whole Bloody Affair only reinforces its status as an event film. The combined cut, shown originally in 2004 at the Cannes Film Festival, played with French subtitles intact with an intermission between Vol. 1 and Vol. 2. Variations from the original versions range from relatively minor to impactful, making The Whole Bloody Affair catnip to fans looking to spot the differences.
Most seem to come in Vol. 1, in which the Crazy 88 fight scene playing out in full, bloody color is a highlight. Other variations include more severed limbs, full color, an additional moment with the young Crazy 88 who The Bride spanks and sends home, and an opening credit dedication to Japanese director Kinji Fukasaku. O-Ren Ishii's anime origin story features more gore, including her disemboweling of Boss Matsumoto, and Sofie Fatale loses her other arm in the film's closing car trunk interrogation scene.
Kill Bill: The Whole Bloody Affair screens at the New Beverly Cinema through April 7.