Liberace Producer Predicts Oscar Win For Michael Douglas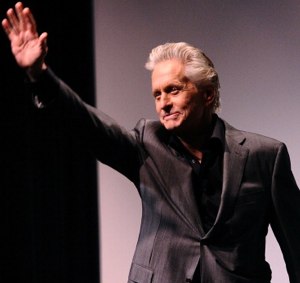 We already know how Matt Damon feels about the Michael Douglas touch -- particularly vis a vis its influence on the steamier side of their upcoming biopic Liberace. But as Movieline found out today, Douglas has an even bigger fan in the film's legendary producer Jerry Weintraub, who's calling his Oscar 2012 shot early with Liberace's leading man.
While chatting about His Way, the new HBO documentary about Weintraub's half-century in the entertainment industry, Weintraub didn't hesitate when asked the one movie project he was most eager to finally realize. "Liberace," he said. "A lot of people think I'm nuts making a movie about Liberace. I don't! I've got a great script, it's a great story, and they're great characters. That's what I make movies about. It's going to win an Academy Award."
Oh, really? For whom? "For Michael Douglas."
Before we could get into Douglas's performance as the famed, flamboyant pianist, Weintraub's own Oscar prospects -- or lack of interest thereof, perhaps -- came up.
"I don't care about it," he said, shrugging. "I've had things that have won Academy Awards. Awards are not what drives me. I have so many awards. I have rooms full of those things. They don't mean much to me. They're nice to have, and I'd rather have them than not have them, but that's not what I do this for. I do this because it excites me. I still get excited when I do a project I'm interested in."
Clearly! More to come soon about His Way and Weintraub's counsel for would-be producers; the doc premiere April 4 on HBO