Stop The Press! Amy Adams Is Your New Lois Lane In Zack Snyder's Superman
Perhaps trying to distract from his embarrassing second-place finish to a children's sequel, the Los Angeles Times is reporting that Zack Snyder has officially chosen Amy Adams as the Lois Lane to Henry Cavill's Clark Kent. Lady luminaries such as Rachel McAdams, Jessica Biel and Kristin Stewart were reportedly in contention but three-time Academy Award-nominee Adams edged them all out. So what can we expect from Adams' Lois Lane?
Snyder promises that Lois Lane is "a linchpin" to his Superman story and that she'll provide important grounding for the high-flying movie:
What's important to us is making [Superman] relevant and real and making him empathetic to today's audience so that we understand the decisions he makes. That applies to Lois as well. She has to be in the same universe as him [in tone and substance].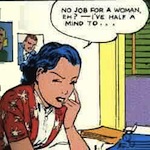 I think Adams could be a smart choice for the movie. At 36 years old, she's got enough seasoning to realistically play a world-class reporter (the less said about Kate Bosworth's barely pubescent Pulitzer prize-winning Lois, the better) and has played dames with moxie before perfectly. Just remember, Amy -- the keyword is SPUNK. Lois has it in spades. She's not a damsel in distress, she's not a coquettish, eyelash-flutterer, she's a modern gal about town and she's gonna get the scoop, see! If it doubt, please refer to Margot Kidder's audition reel for a masterclass on how to do spunk. Good luck!
·Superman news: Amy Adams will be Lois Lane [LAT]