Zack Snyder on Henry Cavill and His Realistic Superman: 'For Me, That's Like a Documentary'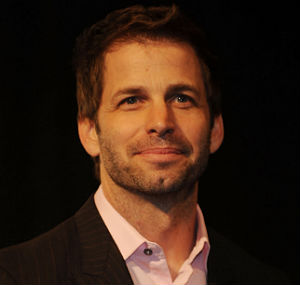 More bits and pieces of Zack Snyder's upcoming Superman project emerged Sunday as the director made the press rounds with the girl power action pic Sucker Punch, another wildly fantastical, epic-scale vision from the man behind 300 and Watchmen. As Snyder told Movieline exclusively with a nod to his creative exchanges with producer Christopher Nolan, Superman will mark a stylistic departure of sorts: The comic book adventure about the flying, super-powered Man of Steel will be his most realistic film to date.
"I've never had to make a movie that exists or takes place in the real world before," Snyder told Movieline. "Every movie I've made has been some stylized version of reality."
Compared to the hyper-stylized visions he's brought to his past few films -- the blue-screened battles of 300, the dark comic book universe of Watchmen, and the pop culture mash-up fantasy worlds of Sucker Punch, the latter of which takes the viewer deep into the mind of a troubled young woman trapped in an insane asylum (Emily Browning) -- Superman demands a world grounded in reality. Well, relatively speaking.
"I said to the studio, when you ask me to make Superman you're asking me to make a realistic movie. They're like, 'What do you mean? It's Superman.' I'm like, no -- for me, that's like a documentary, basically."
"I guess for [Superman] to be credible, he gets more credible by the reality that you can bring to him," he elaborated later to a gathering of press. "Emotionally and visually. So we'll see."
Snyder came aboard Superman after he and wife /producing partner Debbie met with Christopher Nolan and Emma Thomas. At the time, Snyder and Nolan were working on Sucker Punch and Inception, respectively, two different films that nonetheless share similar concepts and ideas concerned with layered realities and the subconscious. "It was weird, because Sucker Punch and [Inception] were kind of happening on parallel roads," Snyder mused to Movieline. "I guess that's true, to some extent. And I think that's cool. Both of us have incredible different aesthetics but in a weird way there's definitely some sort of connection in that."
As for the star of Superman, Snyder says British actor Henry Cavill has already begun his training for the role. "Henry's going to be hitting the iron pretty hard," he said.
Training in undisclosed disciplines for the role, Cavill is working with stunt and fight collaborators previously tapped for 300, Watchmen, and Sucker Punch. Debbie Snyder elaborated. "He's working! Mark Twight, who trained all the guys for 300, his company's called Gym Jones. The moment we hired Henry he met with Mark and he met with Damon Caro, who does all the fight training, and they put him on a plan."
"He started in England and as of April 1, we have him full time with us. Again, it's just all that training. You really need it."
Stay tuned for more on this month's Sucker Punch, including Movieline's exclusive interview with Zack Snyder.