Darren Aronofsky Drops Out of The Wolverine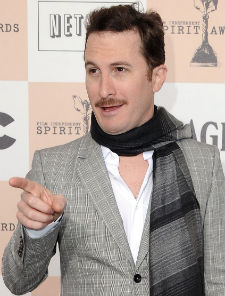 "I kind of am excited about doing a film where actually everyone wants to make it," Darren Aronofsky told David Poland last November about the prospect of directing The Wolverine with Hugh Jackman, "just to see what the experience is like, and see if I can do what I do in that world." Looks like he'll have to wait a bit longer to find out. Aronofsky announced today that he has left the project.
"As I talked more about the film with my collaborators at Fox, it became clear that the production of The Wolverine would keep me out of the country for almost a year," Aronofsky said in a statement. "I was not comfortable being away from my family for that length of time. I am sad that I won't be able to see the project through, as it is a terrific script and I was very much looking forward to working with my friend, Hugh Jackman, again."
For their part, Twentieth Century Fox seems supportive of his decision -- if a bit upset: "While we are of course disappointed that Darren can't do The Wolverine, we also understand and respect his reasons. Having done both The Wrestler and Black Swan with Darren, we know he is an extraordinary talent and we look forward to working with him on other projects in the future. Hugh Jackman and Fox both remain fully committed to making The Wolverine. We will regroup and move forward aggressively."
So, who will Fox get to direct The Wolverine? Aronofsky's top competition for the gig last summer was David Slade, but he reportedly just booked Daredevil for the same studio. That leaves any untold number of directing options -- including maybe Movieline favorite Robert Schwentke. (Schwentke! Schwentke! Schwentke!) The RED director went so far as to meet with Jackman last summer, but removed himself from consideration. He's currently planning to direct R.I.P.D. with Ryan Reynolds and Zach Galifianakis, but stranger things have happened. Like Darren Aronofsky signing on to direct The Wolverine in the first place.
Developing...
· Darren Aronofsky Exits 'The Wolverine' [Deadline]