Julian Schnabel Storms UN to Premiere Miral, Smack Critics
Despite protests from opponents accusing the film of bias, the US premiere of director Julian Schnabel's latest, Miral, unspooled as planned Monday night at United Nations headquarters in New York. And while a redoubtable list of friends and heavy hitters -- including Sean Penn, Robert De Niro and Josh Brolin -- materialized in support, Schnabel had words for the resistance.
"They should come see the movie," Schnabel said emphatically of the American Jewish Committee, which urged the UN to disinvite the filmmaker and his Miral cohort from screening the film in the historic General Assembly Hall. "Obviously they're showing the movie; they can't do a damn thing about it. But they should come and watch it, and I would love it if they'd see it. They wanted to stop it before they even saw it."
Miral's critics -- at least on the ideological side (film critics and the MPAA have their respective problems with it) -- have expressed concern that the story of a young Palestinian woman's (Freida Pinto) radicalization in late-'80s Jerusalem sends the wrong message about the policies and practices of Israel. Schnabel and distributor Harvey Weinstein have both dismissed the claims as unfounded, especially since some of Miral's most vocal opponents to date -- including leadership of the AJC -- haven't yet seen the film, which opens in limited release on March 25.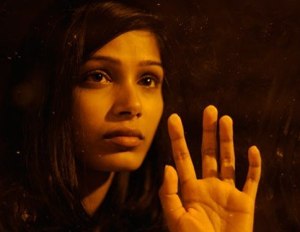 "They should see the movie," Schnabel told me. "Then I'll talk to them." He said he invited AJC representatives to a screening but didn't receive a response, adding that the group is "against any dialogue, which I think is pretty stupid."
The AJC, meanwhile, released an official statement Monday: "Julian Schnabel, the film's director, claims that showing the film at the UN will promote dialogue, but how can it when the Israeli Mission to the UN was not even given the minimal courtesy of being consulted on the event, though Israel is central to the film's plot line?"
Ultimately, this wasn't the subject on the minds of Schnabel's viewers, many of whom gawked at and took snapshots of the interior of a venue which had previously hosted generations of world leaders and where, from the very chairs where we sat, international delegations once observed Nikita Khrushchev banging his shoe on a table in protest. There would be no such outburst Monday night, perhaps because of the relatively low stakes accompanying even this movie premiere in the end, or because Schnabel was undoubdtedly the first speaker to ever address the packed UN General Assembly Hall wearing pajamas and orange Vans.
"There's two seats over there," he said into a lapel mic after being introduced, ushering guests up the aisle to a reserved row of chairs. "I have to seat my friends, I'm sorry." He escorted Lou Reed and Laurie Anderson, who contributed music to Miral, a little further up the aisle. "There are two seats here and two seats there," Schnabel said to them and another couple before walking around the section and back to the stage. "A director's job is never done."
Climbing the steps, he withdrew a sheet of notes. "Good evening your excellency, Joseph Deiss, and senior officials of the United Nations..." Schnabel began, continuing through the formalities of his temporary station. "It is my pleasure to present to you our film, and a true labor of love, Miral. It's a profound honor for me to be here this evening and screen our film for all of you distinguished guests. I'd like to thank the president of the United Nations General Assembly for making this premiere happen. It may be a weird precedent; Deiss came under some fire for allowing the film to be shown tonight, and I'm deeply grateful he saw the film for what it is: a cry for peace.
"I love the state of Israel," he continued. "I believe in it, and my film is about preserving it, not hurting it. I believe that comes through in the film. I hope you agree. [...] My goal with Miral was to open a dialogue about what's possible for this region of the world. Tonight is an important step in doing just that. I cannot begin to tell you how moved I am to have all of you here for that dialogue."
Dialogue will indeed follow closer to Miral's opening and/or any ensuing controversy; check back with Movieline for more coverage in the week ahead.
[Top photo: Getty Images]