Attack the Block Is the First Geek Hit of SXSW, But Does That Really Mean Anything?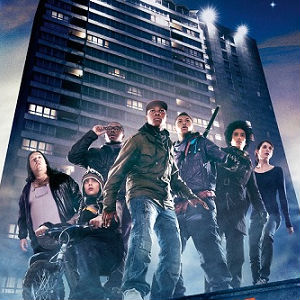 Universal's geek bonding road trip flick Paul screens shortly tonight at SXSW, but another sci-fi alien pic with ties to the Nick Frost-Edgar Wright-Simon Pegg universe may have already stolen its thunder: Attack the Block, director Joe Cornish's horror comedy about inner-city London kids who channel their delinquent ways into survival skills when vicious space invaders descend.
Directed by Cornish and featuring Nick Frost, Attack the Block has drawn inevitable comparisons to the films of producer Edgar Wright (Shaun of the Dead, Hot Fuzz), who collaborated with Cornish on the upcoming high profile projects Ant-Man and The Adventures of Tin Tin. Could Attack the Block do for the alien invasion genre what Shaun of the Dead did for zombies? If the near-unanimous showering of SXSW blogger praise in Austin is any indication, somebody had better pick up this movie, and fast, if only to get it seen outside of the festival circuit.
The Playlist's Gabe Toro calls Attack the Block "the ideal midnight movie." Cinema Blend's Matt Patches predicts that it "may wind up as one of the best action movies of the year." Most importantly, it marks a strong debut for director Cornish, whose choices in casting unknown youngsters and recruiting Basement Jaxx for soundtrack duties count among the accolades he's racked up so far at SXSW.
But according to some reports, buyers may balk at the challenges of selling a movie carried by unknowns with South London accents so heavy that American audiences might require subtitles. And as Scott Pilgrim vs. the World proved last year, enthusiastic geek press doesn't necessarily mean an enthusiastic geek turnout at the box office.
Meanwhile, the other SXSW film with ties to the Shaun of the Dead/Hot Fuzz gang faces a similar test. Greg Mottola's alien comedy Paul, which stars Simon Pegg and Nick Frost (who also wrote the script), opens in wide release Friday after debuting this week at SXSW. Early reviews are mixed-to-positive, and Paul's inherent geekiness may turn out to work against it; in reveling in the referential sensibilities of its two Comic-Con-going heroes (Simon Pegg and Nick Frost), Paul may be too loose and inside baseball for mainstream audiences.
So how much potential is there at the box office for relatively small, geek-oriented films not involving comic books or superheroes post-Scott Pilgrim? Keep an eye on Paul, which premieres Sunday at SXSW, and keep your fingers crossed that Attack the Block, which still awaits U.S. distribution, makes its way out of Austin.