My Favorite Scene: Shiloh Fernandez Goes Comic, Romantic with Movieline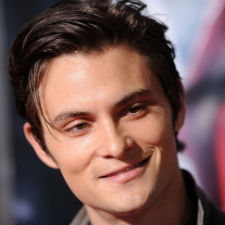 Shiloh Fernandez makes Amanda Seyfried swoon with his bad boy ways in Catherine Hardwicke's Red Riding Hood, but when Movieline met with the 26-year-old actor in Los Angeles he revealed his softer side with a favorite moment from a romantic '90s-era classic -- and turned on the charm with a touch of good, old-fashioned flattery. "I read Movieline!" he exclaimed before diving into a nostalgic round of My Favorite Scene.
Does Fernandez just say that to all the journalists?
"No! If you go look at my computer, that's the one movie Web site that I look at," Fernandez insisted. "I love The Vault! It's funny, it's clever, I swear it's the only movie website I read."
Awww! And with that, Fernandez happily played Movieline's My Favorite Scene, first remembering an old classic he'd watched with his father as a kid. "I suppose, because there were very few movies that my dad watched with me when I was growing up, it would be the Pink Panther movies with Peter Sellers. The Cato and Peter Sellers fights -- when Peter Sellers gets home -- those are my favorite scenes."
Fernandez's tastes also run sentimental, as with his second pick: River Phoenix's romantic declaration in Peter Bogdanovich's 1993 country music dramedy A Thing Called Love. "I love the scenes between River Phoenix and Samantha Mathis in The Thing Called Love," he shared. "The scene that I love is when he plays the show that she shows up to with Dermot Mulroney and he seems to be ignoring her but she's dancing with Dermot, and he chases after her; he's been playing a character the whole time on top of his character, because he's been playing a person who doesn't care, somebody who doesn't have a care in the world and doesn't care much about anybody else. And he reveals that, no, I love you -- I just don't know how to say it!"
"There are so many layers with all of his performances but here literally every line he says they're getting peeled and peeled. That was just amazing. And it also has something to do with the fact that he sees her with another guy. He's incredible."
Look for the full Movieline interview with Shiloh Fernandez on Monday, and watch for him in this month's Red Riding Hood and the indie drama Skateland.