VIDEO: Daniel Craig Does James Bond in Drag for Gender Equality PSA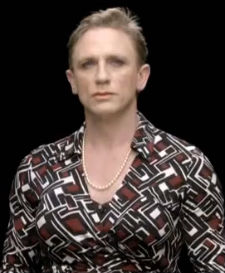 "We're equals -- aren't we, 007?" asks the disembodied voice of Dame Judi Dench, lecturing her on-screen employee Daniel Craig in a new PSA created for International Women's Day (Tuesday, March 8). "Yet it is 2011 and a man is still likely to earn more money than a woman, even one doing the same job." And what imagery has the power to combat the litany of socioeconomic inequalities that remain between men and women in today's day and age? James Bond in drag! Because of course.
The short, directed by Sam Taylor-Wood (Nowhere Boy), was written by Kick-Ass scribe Jane Goldman and is being heralded as the first film featuring James Bond to be directed by a woman. Granted, the intention here is noble: Call attention to inequality by making the most masculine screen icon of all time walk a day in a woman's shoes - literally! The end result, however, makes us feel more sympathy for the sad-faced Craig, forlorn in his long blonde wig and heels, than anything else. This is more painful to watch than Die Another Day, and about as empowering for women.
· Daniel Craig 'drags up' in James Bond charity video [Telegraph UK via Film Drunk]