The New Kung Fu Panda 2 Trailer: Not Enough Jean-Claude Van Damme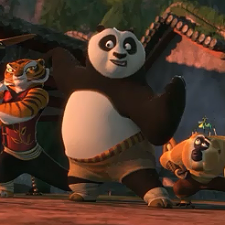 It's a good week to be an animation fan, what with Rango garnering rave reviews and a new trailer for the Shrek spin-off Puss in Boots hitting the web. (Unless, like me, you caught the Puss in Boots teaser in theaters at midnight in front of the aptly-named Beastly. Not a smart life choice, in retrospect.) But what mystical, family-friendly, Eastern-influenced laughs await us in the new trailer for Kung Fu Panda 2?
The sequel to 2008's Oscar-nominated global hit Kung Fu Panda catches up with Po (Jack Black), now a kung fu master fighting alongside the Furious Five (Jackie Chan, Angelina Jolie, David Cross, Lucy Liu, and Seth Rogen), as they face a new enemy -- Gary Oldman in peacock form, who's bent on somehow destroying kung fu. Cue the Black Eyed Peas!
Along for the ride are new cast members Victor Garber, Michelle Yeoh, and -- wait for it -- Jean-Claude Van Damme (!), who are all inexplicably neglected from the trailer in favor of a little thing called story. Sigh. A message arrives. Master Shifu (Dustin Hoffman, channeling Yoda) sends Po & Co. to save the world from Oldman, who appears to be offing various kung fu masters with a giant magical cannon. The gang infiltrates a walled city by hiding in a Chinese dancing dragon, which leads to a mildly amusing dragon-pooping sight gag. And it's all capped off with a fat joke, just because.
Director Jennifer Yuh Nelson -- who has a storyboard credit on Dark City of all films, directed HBO's Spawn, and worked on the first Kung Fu Panda -- here embraces an engagingly kinetic cinematic style and keeps very much to the franchise spirit, and it'll be interesting to see how she makes her mark on the franchise. But while this trailer gives some indication that the sequel might be as solid as the first, it hits a lot of the same notes, as well -- and we've got four more sequels in the works. At the rate this franchise is going with three years of production time between installments, does that mean we'll be watching Jack Black making stupid kung fu noises and obesity jokes to the sounds of the Black Eyed Peas and their ilk until 2023?
VERDICT: Kung Fu Panda exhaustion hasn't set in just yet. See it in theaters May 26, but if "Pump It" is used in the film you have permission to fly into a Black Eyed Peas rage in the aisles.