Report From Yale: James Franco Still Likes Doing Things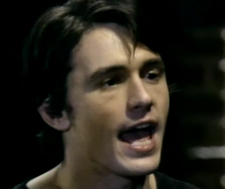 According to a new report, the roundly chilly response to James Franco's Oscar hosting gig has hardly lessened his profile at Yale. In fact, the post-grad polymath -- who is in the early stages of obtaining a Ph.D. in English from the Ivy League institution -- was back on the East Coast mere hours after the Oscarcast ended, journalists in tow and mythology expanding by the hour.
"At 9 the next morning," notes today's NYT, "[Franco] was in a Starbucks in New Haven, hunched over a book and barely recognizable in a gray sweatshirt, but still wearing his tuxedo pants." I mean, of course he was still in tuxedo pants. Just add it to the legend promulgated by Franco's peers and faculty alike:
He has found time to undertake a multimedia musical production with about four dozen undergraduates that will open on campus in April. He is listed as a producer, but has worked with students on all aspects of the show, The Stargazer, including casting, making script revisions and acting in the film elements.
"We're all really fascinated and awed," said Cokey Cohen, the columnist at The Yale Daily News who drew Mr. Franco's ire. "To see someone who has what we all consider to have an ideal life -- with a fun, successful career -- to be voluntarily doing so much schoolwork all the time is both really admirable and something I can't even comprehend."
Dr. [Michael] Warner said the actor's academic ambitions were impressive. "We have had experience before with students pursuing parallel degrees," he said, "although the scale of his obligations is something that we've never seen before -- but who has?"
Good question! Related: On a name basis alone, I want Cokey Cohen to host next year's Oscars. The position's open, inquire within...
· James Franco Straddles Two Roles at Yale [NYT]