Drive Angry's William Fichtner Plays My Favorite Scene, Recalls Rocky Soap Opera Beginnings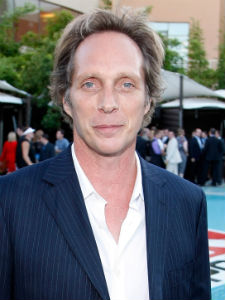 The great tragedy in Drive Angry 3D's lackluster opening last weekend isn't that the B-movie homage didn't make more money, but that more people didn't get to see William Fichtner steal the show as The Accountant, the no-nonsense supernatural CPA from hell doggedly tracking Nic Cage's every move on earth. Fichtner, one of Hollywood's most beloved character actors, gives a master class in added-value acting in the film, which he discussed with Movieline last week before musing further on muscle cars, The Godfather Part II, and his soap opera beginnings.
Fichtner's career trajectory is a study in determination. Instead of following his original plan - a career in law enforcement, which perhaps explains his proclivity for playing cops and other authority types - he took the leap into soaps, then steadily built up his resume with films like Heat, Contact, Go, Armageddon, and Black Hawk Down, and on television on Invasion, Prison Break, and, most recently, Entourage. And as he told Movieline, recalling his early years as a struggling actor in New York, "I don't think there is a back-up in this business. If you have a back-up, then you should go do the back-up."
You've established yourself well as a character actor - how comfortable are you with that term?
I'm completely okay with that. I mean, I think I have to be at this point - the last I noticed, the leading roles weren't all coming in my direction. Listen, to play a character is exciting. I think even if I had a role that was more of a leading man in nature I would probably find a way to make it more of a character. It's fun to look for that.
You really owned The Accountant and made that character fascinating to watch. How much of your own ideas did you add to what was written in the script?
Well, the first time that I read the script was months before we started shooting it, and I loved the script. Call me old school, but if it's not on the page, it's not on the stage. Todd [Farmer] and Patrick [Lussier] wrote a really good script with really good characters and the way that it unfolded... it was such a visual experience, reading it. Similar to it is watching it, except it's like the joy of reading books, you let your mind draw the pictures. And I had a lot of pictures when I read it the first time. In particular I really loved this character, called The Accountant, and then I had a chance to meet Patrick a few weeks after that, and a few weeks after that I found out I was going to work on it. So it was great. It was a great character because it's pretty wide open how you're going to play a guy who works in hell. And I loved putting that together, talking to Patrick about it, filling in the blanks about who the guy was. How much of it was in the script? So much of it. But then you take it and you make it your own.
You seem to add subtle characteristics in your performance - in the way The Accountant adjusts the way he speaks to these slow-thinking humans he encounters, or how he sensorially takes in the human world.
It's very cool you got that!
Are those types of things in the script, or are they examples of what you add as a performer?
Some of those things... no. There's a moment with Frank; Frank's like, "Yeah, I saw the sumbitch," and I'm like, "Where'd the sumbitch go?" I kind of got that in the moment with him. But there is so much, it's really a combination of everything. Because a greatly-written script will inspire ideas, and each time you read it you'll find a new one. That, I give all credit to Todd and Patrick for.
We don't exactly get The Accountant's backstory in the film, but he does seem to be quite the fair and balanced agent of hell.
[Laughs] I like "fair and balanced." That sounds a little...
Well, it sounds a little Fox News, doesn't it?
I was just going to say that, and I stopped myself! I stopped just in time. [Laughs]
On the one hand, he's bent on hunting down Nicolas Cage's character. But then he takes a surprising turn. How would you describe The Accountant's relationship with Milton and how it evolves?
The Accountant's job is simply that he is accountable for every person sent to hell, and when someone leaves, it's his responsibility to make sure they get back. So as soon as Nic breaks, I'm in play. I don't think it happens that often; my guess is that every 10-15 years someone gets out. I also figured that he was human at one time... he just happened to get a really good job when he was down there. So if he's human, even if he was a bad enough guy to end up in hell in the first place, there's an element of him that understands right and wrong. But when he gets back, it's a single focus thing. You've got to go back, you can't do that. But as you see in the movie, the closer that he gets to him he starts to put the pieces together.
I heard that you're a car guy, but you don't get to drive any of the classic muscle cars in the film. Was there any car envy for you on set?
I am a car guy. [Fichtner pulls out his cell phone, pointing to a photo of a bright orange car.] That's my car. A 1970 Road Runner. It only has 44,000 original miles. So when people say, "Oh, you didn't get to drive on the film," I'm not worried about it.
Let's play Movieline's My Favorite Scene. What's your favorite scene from a film?
That's so hard. I just thought of 10 of them! The first one is, at the end of The Godfather Part II when they're all sitting around the table and Sonny introduces Carlo to his sister -- it's before everything. It's this one flashback scene at the end of the movie, when they have the cake and they're surprising Marlon Brando, the Don, and everybody leaves the room and Michael still sits in the chair. It's back when things were all innocent. You go through the whole journey of those two films, five hours of perfect filmmaking, and it's this beautiful little innocent scene. It's a great moment.
The other one that came to mind is in Strictly Ballroom, when at the end he flies across the floor and she's standing there and dances with them even though they're kind of getting tossed out. That's fantastic. He slides across on his knees and circles around and stops right in front of her.
Looking back on your career and how you started out, what was the moment that you realized you could do this for a living?
I have a criminal justice degree, a bachelor's in political science and criminal justice. I moved to New York and waited tables for years and years... You know, I remember getting into my first scene study class in New York, and there would be 20 actors in there and a lot of these kids, in their early 20s, did this in college and high school, their whole life. This was brand new for me. I was a little intimidated because I didn't understand half of what they were talking about, the theater lingo and all that. But I remember that original scene study class with 20 kids in it, and I could tell you even after being there a couple of weeks, I could look around that room and tell you the four people who were actually in it. They didn't say things like, "I'm gonna do this now but I have a back-up" -- I don't think there is a back-up in this business. If you have a back-up, then you should go do the back-up. Because it's much too hard to take this journey. Some will get lucky, and that's great for them, but it's a journey of self-discovery and how much do you care about how good you're going to be, and your own craft, and what you want to put into it.
There were a few moments where I thought, "Man, I don't really want to do this because this isn't working out." But then I had moments when I thought, "I can't -- what the hell else am I going to do?" I didn't want to do anything else, even when things weren't working out. So you just keep going because you believe.
Was landing a role on As the World Turns a big moment for you, then?
It was a tough thing because the day that I got that job, I had no money. As in N-O. The day that I got that job, I got a job at a regional theater in Portland, Maine, doing Lanford Wilson's Fifth of July for a few hundred dollars a week. That was a really tough call. Doing a play for seven weeks, or doing this contract on a soap. I didn't want to -- I thought, "Oh man, I'm gonna be a soap actor forever!" and it freaked me out. Actually, there was a real silver lining in that because you work in front of a camera all of the time, you get to be comfortable with
it, in a good way, where you're not concentrating on that but concentrating on other things. But I don't know if there ever was a moment. I'm not sure I'm there yet, of feeling like I've had the moment, like, this is it.