Check Out the Censored Oscar Kiss Between Javier Bardem and Josh Brolin
This year's Academy Awards telecast was difficult to sit through. So it wouldn't be surprising if you missed (translation: were asleep during) the awkwardly extended cut-away to Penélope Cruz during Javier Bardem and Josh Brolin's impromptu presenter dance bit. If you did notice the strange editing choice though and suspected that something was amiss in the editing booth, you were right.
After No Country For Old Men stars Bardem and Brolin appeared onstage to present Academy Awards for Best Adapted Screenplay and Best Original Screenplay (while wearing matching white suit jackets, natch), the pair shared an impromptu slow dance before kissing each other on the lips. Post-Melissa Leo F-Bomb, producers frantically made use of that seven-second delay and cutaway to Cruz for the entire spectacle.
At this time, ABC has not commented on their decision to cut the man-on-man kiss. While you wait, enjoy photographic evidence of the moment below.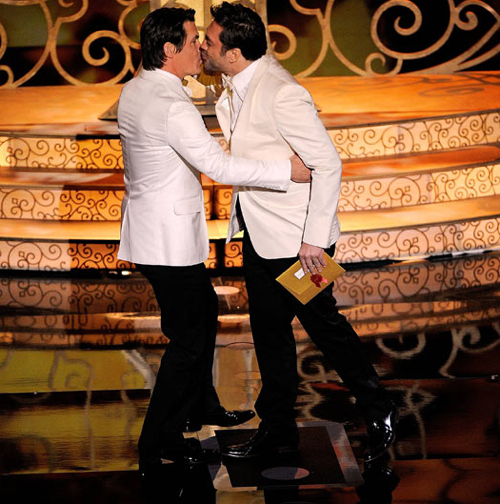 · Javier Bardem and Josh Brolin Danced and Kissed at Oscars. Too Bad it Didn't Make the Telecast. [AfterElton]